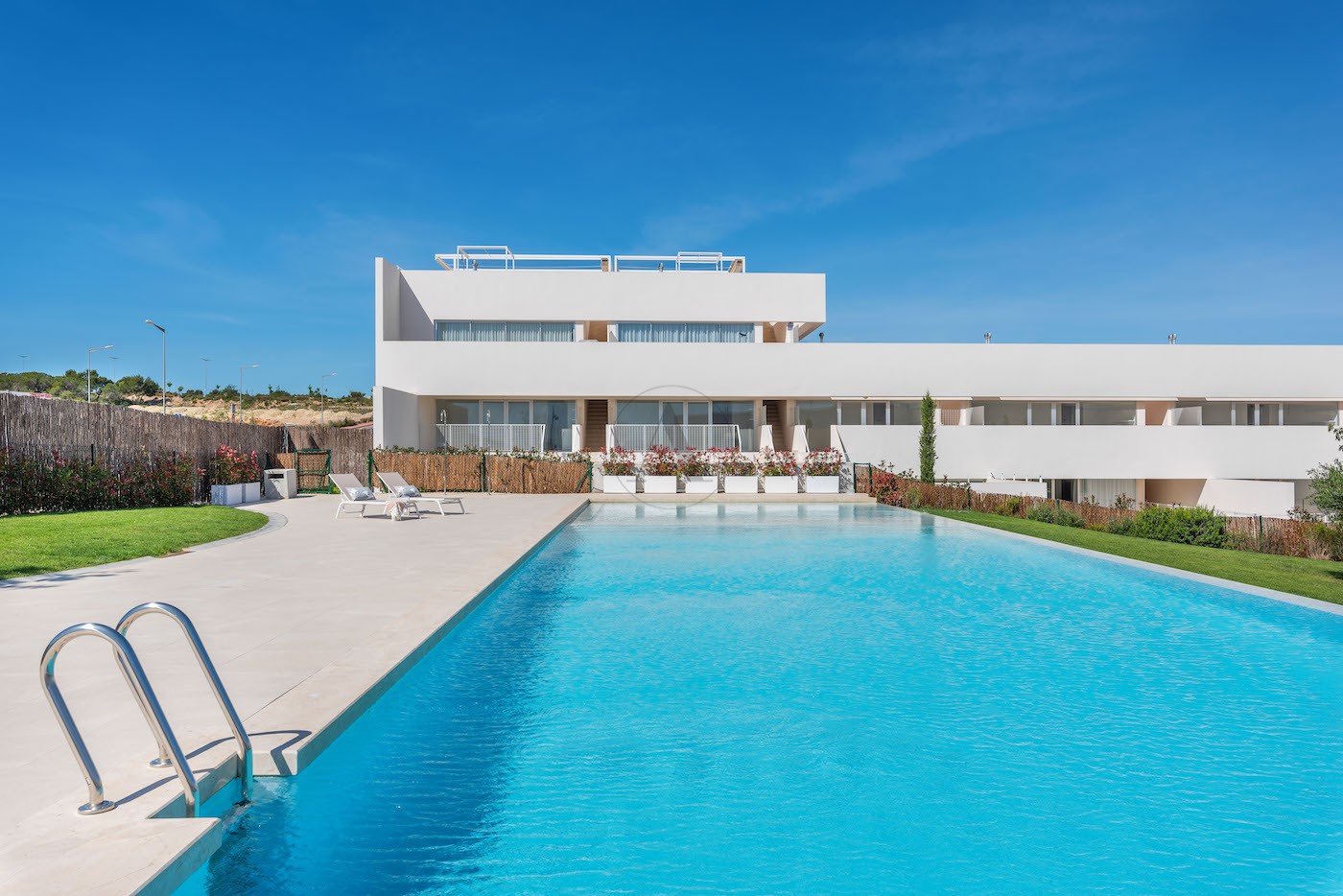 REF: N-047
Modern residence with contemporary, minimalistic look in Torrevieja
Torrevieja, Costa Blanca South
From € 225.000
For those looking for a modern apartment at the Costa Blanca, good news! In this project you will find beautiful, spacious flats with a minimalist design. Unique in the area of Torrevieja!
The gated residence contains a total of 67 properties, with 2 or 3 bedrooms and 2 bathrooms. The living rooms all have large windows, which provides a pleasant amount of light into the apartment.
There are different types of properties to choose from in this project! F. ex.:
Ground floor apartments with terrace and garden
Penthouse apartments with balcony and private roof terrace
Ground floor apartments with several terraces and a basement of 100m2 (which can be decorated to your wishes)
Ground floor apartments with terrace, garden and access to a private roof terrace
The apartments are qualitatively finished with a stylish kitchen, bathrooms with shower and bedrooms with fitted wardrobes. Also included in the price is an underground parking space with storage room. Ideal for bicycles or beach equipment.
The urbanisation is quiet, private and rather small-scale. There is a communal garden and a beautiful infinity pool with lounging area. The architect of this project created a minimalistic, peaceful residence with an attractive contemporary design.
Want to discover more? Contact Adaleta for a viewing!
COMMUNITY FEES (annual)
€ 850
DISTANCE COM. CENTER
1,5 km
From € 225.000
AVAILABILITY
N-047/25
Apartment
FLOOR:
1
•
BEDROOMS:
2
•
BATHROOMS:
2
INDOOR SURFACE:
72 m²
•
OUTDOOR SURFACE:
79 m²
•
€ 249.000
N-047/27
Apartment
FLOOR:
1
•
BEDROOMS:
2
•
BATHROOMS:
2
INDOOR SURFACE:
68 m²
•
OUTDOOR SURFACE:
79 m²
•
€ 249.000
N-047/28
Apartment
FLOOR:
0
•
BEDROOMS:
2
•
BATHROOMS:
2
INDOOR SURFACE:
71 m²
•
OUTDOOR SURFACE:
68 m²
•
€ 225.000
N-047/29
Apartment
FLOOR:
1
•
BEDROOMS:
2
•
BATHROOMS:
2
INDOOR SURFACE:
68 m²
•
OUTDOOR SURFACE:
79 m²
•
€ 249.000
N-047/33
Apartment
FLOOR:
0
•
BEDROOMS:
2
•
BATHROOMS:
2
INDOOR SURFACE:
71 m²
•
OUTDOOR SURFACE:
68 m²
•
€ 225.000
N-047/35
Apartment
FLOOR:
0
•
BEDROOMS:
2
•
BATHROOMS:
2
INDOOR SURFACE:
71 m²
•
OUTDOOR SURFACE:
68 m²
•
€ 225.000
N-047/37
Apartment
FLOOR:
0
•
BEDROOMS:
2
•
BATHROOMS:
2
INDOOR SURFACE:
71 m²
•
OUTDOOR SURFACE:
68 m²
•
€ 225.000
N-047/41
Apartment
FLOOR:
0
•
BEDROOMS:
2
•
BATHROOMS:
2
INDOOR SURFACE:
71 m²
•
OUTDOOR SURFACE:
68 m²
•
€ 225.000
N-047/51
Apartment
FLOOR:
0
•
BEDROOMS:
2
•
BATHROOMS:
2
INDOOR SURFACE:
71 m²
•
OUTDOOR SURFACE:
68 m²
•
€ 225.000
N-047/53
Apartment
FLOOR:
0
•
BEDROOMS:
2
•
BATHROOMS:
2
INDOOR SURFACE:
71 m²
•
OUTDOOR SURFACE:
68 m²
•
€ 225.000
N-047/54
Apartment
FLOOR:
1
•
BEDROOMS:
2
•
BATHROOMS:
2
INDOOR SURFACE:
68 m²
•
OUTDOOR SURFACE:
79 m²
•
€ 249.000
FEATURES
VIEW
•

Pool view

•

Garden view

•

Salt lake view
COMFORT
•

Shower

•

Private indoor parking

•

Storage room
EXTERIOR
•

Terrace

•

Garden

•

Balcony

•

Roof terrace

•

Landscaped garden

•

Communal garden

•

Covered terrace
FLOORPLAN