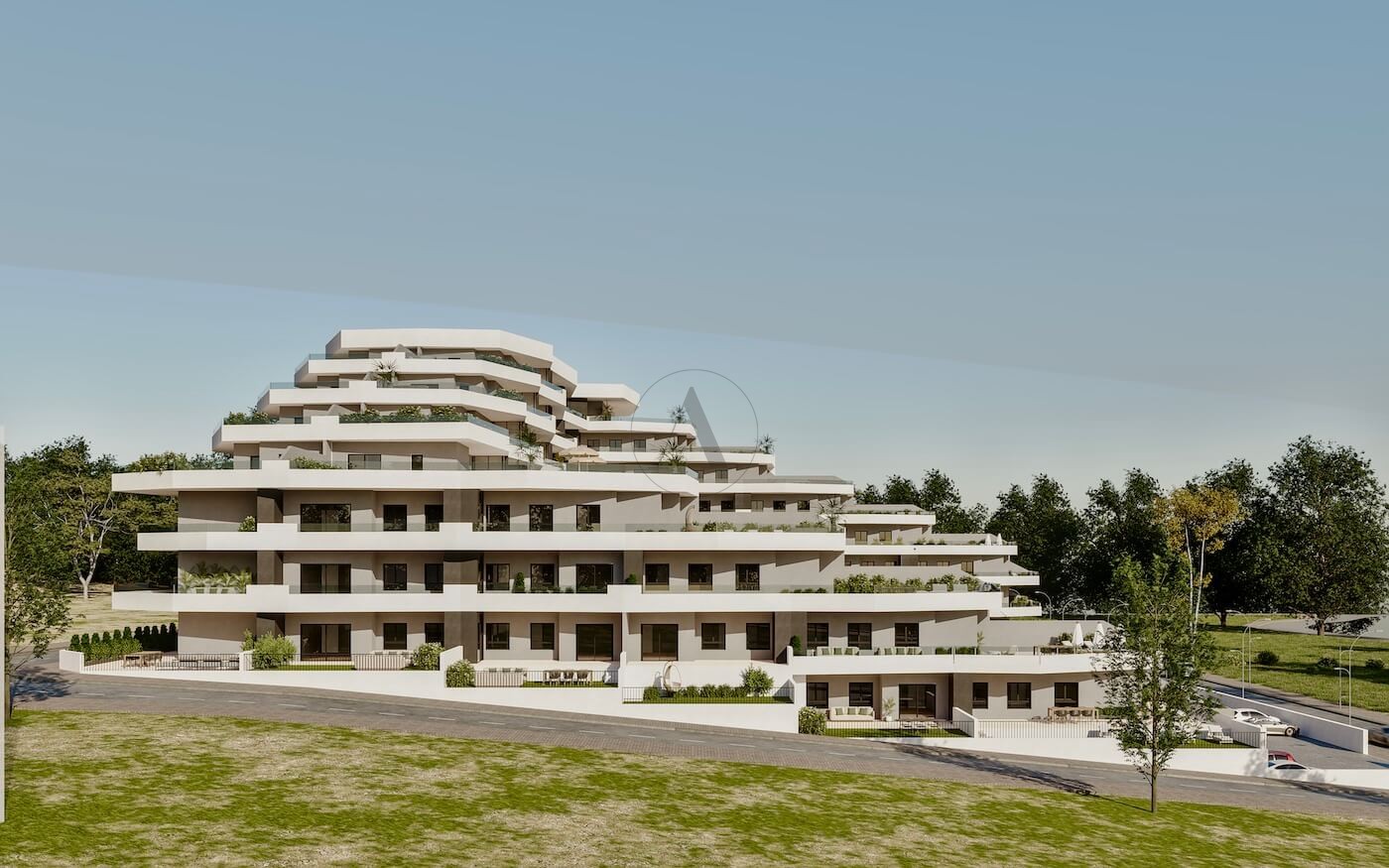 REF: N-179
New impressive project at San Miguel de Salinas
San Miguel De Salinas, Costa Blanca South
From € 149.900
Looking for a modern apartment on the Costa Blanca? We are happy to introduce you to this newbuild project in San Miguel de Salinas.

San Miguel de Salinas is a municipality located in Orihuela at approx 9km from the beach. The good connecting roads take you to the Mediterranean beaches in just 15 minutes.

Daily amenities such as a supermarket, butcher, pharmacy and numerous restaurants and bars are close to the development. There is also a weekly market in town, every Wednesday.

This residence will be a fantastic holiday resort with nice, modern properties with 2 or 3 bedrooms.
The building, with a total of 165 units, will be built in a U-shape. All properties have spacious terraces, most of them overlooking the communal area, offering a swimming pool surrounded by a large green area.

The properties also have a private parking space (indoor or outdoor).

More info regarding prices & availability coming soon!

Contact Adaleta for an introduction to this project!
DISTANCE COM. CENTER
0,5 km
From € 149.900
AVAILABILITY
N-179/010
Apartment
FLOOR:
0
•
BEDROOMS:
2
•
BATHROOMS:
2
INDOOR SURFACE:
68 m²
•
OUTDOOR SURFACE:
24 m²
•
Sold
N-179/102
Apartment
FLOOR:
0
•
BEDROOMS:
3
•
BATHROOMS:
2
INDOOR SURFACE:
82 m²
•
OUTDOOR SURFACE:
69 m²
•
Sold
N-179/115
Apartment
FLOOR:
0
•
BEDROOMS:
2
•
BATHROOMS:
2
INDOOR SURFACE:
68 m²
•
OUTDOOR SURFACE:
33 m²
•
Sold
N-179/117
Apartment
FLOOR:
0
•
BEDROOMS:
2
•
BATHROOMS:
2
INDOOR SURFACE:
68 m²
•
OUTDOOR SURFACE:
33 m²
•
Sold
N-179/2.014
Apartment
FLOOR:
0
•
BEDROOMS:
3
•
BATHROOMS:
2
INDOOR SURFACE:
84 m²
•
OUTDOOR SURFACE:
41 m²
•
Sold
N-179/2.016
Apartment
FLOOR:
0
•
BEDROOMS:
2
•
BATHROOMS:
2
INDOOR SURFACE:
68 m²
•
OUTDOOR SURFACE:
31 m²
•
Sold
N-179/2.018
Apartment
FLOOR:
0
•
BEDROOMS:
2
•
BATHROOMS:
2
INDOOR SURFACE:
71 m²
•
OUTDOOR SURFACE:
29 m²
•
Sold
N-179/2.020
Apartment
FLOOR:
0
•
BEDROOMS:
2
•
BATHROOMS:
2
INDOOR SURFACE:
68 m²
•
OUTDOOR SURFACE:
24 m²
•
Sold
N-179/2.022
Apartment
FLOOR:
0
•
BEDROOMS:
2
•
BATHROOMS:
2
INDOOR SURFACE:
68 m²
•
OUTDOOR SURFACE:
31 m²
•
Sold
N-179/2.023
Apartment
FLOOR:
0
•
BEDROOMS:
2
•
BATHROOMS:
2
INDOOR SURFACE:
68 m²
•
OUTDOOR SURFACE:
69 m²
•
€ 179.900
N-179/2.025
Apartment
FLOOR:
0
•
BEDROOMS:
3
•
BATHROOMS:
2
INDOOR SURFACE:
83 m²
•
OUTDOOR SURFACE:
153 m²
•
€ 289.900
N-179/2.026
Apartment
FLOOR:
0
•
BEDROOMS:
3
•
BATHROOMS:
2
INDOOR SURFACE:
83 m²
•
OUTDOOR SURFACE:
90 m²
•
€ 285.900
N-179/2.119
Apartment
FLOOR:
1
•
BEDROOMS:
2
•
BATHROOMS:
2
INDOOR SURFACE:
68 m²
•
OUTDOOR SURFACE:
43 m²
•
Sold
N-179/2.120
Apartment
FLOOR:
1
•
BEDROOMS:
3
•
BATHROOMS:
2
INDOOR SURFACE:
84 m²
•
OUTDOOR SURFACE:
31 m²
•
Sold
N-179/2.121
Apartment
FLOOR:
1
•
BEDROOMS:
2
•
BATHROOMS:
2
INDOOR SURFACE:
68 m²
•
OUTDOOR SURFACE:
33 m²
•
€ 154.900
N-179/2.123
Apartment
FLOOR:
1
•
BEDROOMS:
2
•
BATHROOMS:
2
INDOOR SURFACE:
68 m²
•
OUTDOOR SURFACE:
33 m²
•
€ 154.900
N-179/2.124
Apartment
FLOOR:
1
•
BEDROOMS:
3
•
BATHROOMS:
2
INDOOR SURFACE:
97 m²
•
OUTDOOR SURFACE:
25 m²
•
Sold
N-179/2.125
Apartment
FLOOR:
1
•
BEDROOMS:
2
•
BATHROOMS:
2
INDOOR SURFACE:
68 m²
•
OUTDOOR SURFACE:
33 m²
•
Sold
N-179/2.127
Apartment
FLOOR:
1
•
BEDROOMS:
2
•
BATHROOMS:
2
INDOOR SURFACE:
70 m²
•
OUTDOOR SURFACE:
116 m²
•
Sold
N-179/2.129
Apartment
FLOOR:
1
•
BEDROOMS:
2
•
BATHROOMS:
2
INDOOR SURFACE:
76 m²
•
OUTDOOR SURFACE:
77 m²
•
€ 179.900
N-179/2.131
Apartment
FLOOR:
1
•
BEDROOMS:
2
•
BATHROOMS:
2
INDOOR SURFACE:
68 m²
•
OUTDOOR SURFACE:
39 m²
•
€ 179.900
N-179/2.133
Apartment
FLOOR:
1
•
BEDROOMS:
2
•
BATHROOMS:
2
INDOOR SURFACE:
68 m²
•
OUTDOOR SURFACE:
69 m²
•
€ 179.900
N-179/2.135
Apartment
FLOOR:
1
•
BEDROOMS:
3
•
BATHROOMS:
2
INDOOR SURFACE:
83 m²
•
OUTDOOR SURFACE:
131 m²
•
€ 259.900
N-179/2.136
Apartment
FLOOR:
1
•
BEDROOMS:
3
•
BATHROOMS:
2
INDOOR SURFACE:
83 m²
•
OUTDOOR SURFACE:
131 m²
•
Sold
N-179/2.221
Apartment
FLOOR:
2
•
BEDROOMS:
2
•
BATHROOMS:
2
INDOOR SURFACE:
68 m²
•
OUTDOOR SURFACE:
24 m²
•
Sold
N-179/2.222
Apartment
FLOOR:
2
•
BEDROOMS:
2
•
BATHROOMS:
2
INDOOR SURFACE:
68 m²
•
OUTDOOR SURFACE:
24 m²
•
Sold
N-179/2.223
Apartment
FLOOR:
2
•
BEDROOMS:
2
•
BATHROOMS:
2
INDOOR SURFACE:
68 m²
•
OUTDOOR SURFACE:
24 m²
•
€ 154.900
N-179/2.225
Apartment
FLOOR:
2
•
BEDROOMS:
2
•
BATHROOMS:
2
INDOOR SURFACE:
68 m²
•
OUTDOOR SURFACE:
24 m²
•
€ 154.900
N-179/2.227
Apartment
FLOOR:
2
•
BEDROOMS:
2
•
BATHROOMS:
2
INDOOR SURFACE:
68 m²
•
OUTDOOR SURFACE:
24 m²
•
€ 154.900
N-179/2.229
Apartment
FLOOR:
2
•
BEDROOMS:
2
•
BATHROOMS:
2
INDOOR SURFACE:
70 m²
•
OUTDOOR SURFACE:
43 m²
•
€ 179.900
N-179/2.231
Apartment
FLOOR:
2
•
BEDROOMS:
2
•
BATHROOMS:
2
INDOOR SURFACE:
76 m²
•
OUTDOOR SURFACE:
27 m²
•
Sold
N-179/2.233
Apartment
FLOOR:
2
•
BEDROOMS:
2
•
BATHROOMS:
2
INDOOR SURFACE:
68 m²
•
OUTDOOR SURFACE:
24 m²
•
Sold
N-179/2.235
Apartment
FLOOR:
2
•
BEDROOMS:
3
•
BATHROOMS:
2
INDOOR SURFACE:
82 m²
•
OUTDOOR SURFACE:
129 m²
•
€ 259.900
N-179/2.236
Apartment
FLOOR:
2
•
BEDROOMS:
3
•
BATHROOMS:
2
INDOOR SURFACE:
82 m²
•
OUTDOOR SURFACE:
129 m²
•
€ 279.900
N-179/2.317
Apartment
FLOOR:
3
•
BEDROOMS:
2
•
BATHROOMS:
2
INDOOR SURFACE:
68 m²
•
OUTDOOR SURFACE:
32 m²
•
€ 156.900
N-179/2.318
Apartment
FLOOR:
3
•
BEDROOMS:
3
•
BATHROOMS:
2
INDOOR SURFACE:
84 m²
•
OUTDOOR SURFACE:
31 m²
•
Sold
N-179/2.319
Apartment
FLOOR:
3
•
BEDROOMS:
2
•
BATHROOMS:
2
INDOOR SURFACE:
68 m²
•
OUTDOOR SURFACE:
24 m²
•
€ 156.900
N-179/2.321
Apartment
FLOOR:
3
•
BEDROOMS:
2
•
BATHROOMS:
2
INDOOR SURFACE:
68 m²
•
OUTDOOR SURFACE:
24 m²
•
€ 156.900
N-179/2.323
Apartment
FLOOR:
3
•
BEDROOMS:
2
•
BATHROOMS:
2
INDOOR SURFACE:
68 m²
•
OUTDOOR SURFACE:
24 m²
•
€ 156.900
N-179/2.325
Apartment
FLOOR:
3
•
BEDROOMS:
2
•
BATHROOMS:
2
INDOOR SURFACE:
68 m²
•
OUTDOOR SURFACE:
24 m²
•
€ 156.900
N-179/2.327
Apartment
FLOOR:
3
•
BEDROOMS:
2
•
BATHROOMS:
2
INDOOR SURFACE:
70 m²
•
OUTDOOR SURFACE:
42 m²
•
€ 181.900
N-179/2.415
Apartment
FLOOR:
4
•
BEDROOMS:
2
•
BATHROOMS:
2
INDOOR SURFACE:
68 m²
•
OUTDOOR SURFACE:
32 m²
•
Sold
N-179/2.416
Apartment
FLOOR:
4
•
BEDROOMS:
2
•
BATHROOMS:
3
INDOOR SURFACE:
84 m²
•
OUTDOOR SURFACE:
32 m²
•
Sold
N-179/2.417
Apartment
FLOOR:
4
•
BEDROOMS:
2
•
BATHROOMS:
2
INDOOR SURFACE:
68 m²
•
OUTDOOR SURFACE:
24 m²
•
€ 158.900
N-179/2.419
Apartment
FLOOR:
4
•
BEDROOMS:
2
•
BATHROOMS:
2
INDOOR SURFACE:
68 m²
•
OUTDOOR SURFACE:
24 m²
•
€ 158.900
N-179/2.420
Apartment
FLOOR:
4
•
BEDROOMS:
2
•
BATHROOMS:
2
INDOOR SURFACE:
68 m²
•
OUTDOOR SURFACE:
24 m²
•
€ 173.900
N-179/2.421
Apartment
FLOOR:
4
•
BEDROOMS:
2
•
BATHROOMS:
2
INDOOR SURFACE:
68 m²
•
OUTDOOR SURFACE:
24 m²
•
€ 158.900
N-179/2.423
Apartment
FLOOR:
4
•
BEDROOMS:
3
•
BATHROOMS:
2
INDOOR SURFACE:
82 m²
•
OUTDOOR SURFACE:
122 m²
•
€ 269.900
N-179/2.424
Apartment
FLOOR:
4
•
BEDROOMS:
3
•
BATHROOMS:
2
INDOOR SURFACE:
84 m²
•
OUTDOOR SURFACE:
373 m²
•
€ 359.900
N-179/2.513
Apartment
FLOOR:
5
•
BEDROOMS:
2
•
BATHROOMS:
2
INDOOR SURFACE:
68 m²
•
OUTDOOR SURFACE:
32 m²
•
Sold
N-179/2.515
Apartment
FLOOR:
5
•
BEDROOMS:
2
•
BATHROOMS:
2
INDOOR SURFACE:
68 m²
•
OUTDOOR SURFACE:
24 m²
•
Sold
N-179/2.517
Apartment
FLOOR:
5
•
BEDROOMS:
2
•
BATHROOMS:
2
INDOOR SURFACE:
68 m²
•
OUTDOOR SURFACE:
24 m²
•
Sold
N-179/2.519
Apartment
FLOOR:
5
•
BEDROOMS:
3
•
BATHROOMS:
2
INDOOR SURFACE:
82 m²
•
OUTDOOR SURFACE:
129 m²
•
€ 273.900
N-179/2.611
Apartment
FLOOR:
6
•
BEDROOMS:
2
•
BATHROOMS:
2
INDOOR SURFACE:
68 m²
•
OUTDOOR SURFACE:
32 m²
•
Sold
N-179/2.613
Apartment
FLOOR:
6
•
BEDROOMS:
2
•
BATHROOMS:
2
INDOOR SURFACE:
68 m²
•
OUTDOOR SURFACE:
24 m²
•
€ 162.900
N-179/2.615
Apartment
FLOOR:
6
•
BEDROOMS:
2
•
BATHROOMS:
2
INDOOR SURFACE:
69 m²
•
OUTDOOR SURFACE:
142 m²
•
€ 264.900
N-179/2.616
Apartment
FLOOR:
6
•
BEDROOMS:
2
•
BATHROOMS:
2
INDOOR SURFACE:
69 m²
•
OUTDOOR SURFACE:
142 m²
•
Sold
N-179/2.711
Apartment
FLOOR:
7
•
BEDROOMS:
3
•
BATHROOMS:
2
INDOOR SURFACE:
82 m²
•
OUTDOOR SURFACE:
107 m²
•
€ 289.900
N-179/2.712
Apartment
FLOOR:
7
•
BEDROOMS:
3
•
BATHROOMS:
2
INDOOR SURFACE:
82 m²
•
OUTDOOR SURFACE:
107 m²
•
€ 299.900
N-179/210
Apartment
FLOOR:
2
•
BEDROOMS:
2
•
BATHROOMS:
2
INDOOR SURFACE:
68 m²
•
OUTDOOR SURFACE:
24 m²
•
€ 159.900
N-179/215
Apartment
FLOOR:
2
•
BEDROOMS:
2
•
BATHROOMS:
2
INDOOR SURFACE:
68 m²
•
OUTDOOR SURFACE:
24 m²
•
€ 149.900
N-179/308
Apartment
FLOOR:
3
•
BEDROOMS:
2
•
BATHROOMS:
2
INDOOR SURFACE:
68 m²
•
OUTDOOR SURFACE:
26 m²
•
€ 159.900
N-179/413
Apartment
FLOOR:
4
•
BEDROOMS:
2
•
BATHROOMS:
2
INDOOR SURFACE:
68 m²
•
OUTDOOR SURFACE:
24 m²
•
€ 152.900
N-179/509
Apartment
FLOOR:
5
•
BEDROOMS:
2
•
BATHROOMS:
2
INDOOR SURFACE:
68 m²
•
OUTDOOR SURFACE:
24 m²
•
€ 155.900
N-179/511
Apartment
FLOOR:
5
•
BEDROOMS:
2
•
BATHROOMS:
2
INDOOR SURFACE:
68 m²
•
OUTDOOR SURFACE:
24 m²
•
€ 155.900
N-179/607
Apartment
FLOOR:
6
•
BEDROOMS:
2
•
BATHROOMS:
2
INDOOR SURFACE:
68 m²
•
OUTDOOR SURFACE:
24 m²
•
€ 158.900
N-179/609
Apartment
FLOOR:
6
•
BEDROOMS:
2
•
BATHROOMS:
2
INDOOR SURFACE:
68 m²
•
OUTDOOR SURFACE:
24 m²
•
€ 158.900
N-179/707
Apartment
FLOOR:
7
•
BEDROOMS:
2
•
BATHROOMS:
2
INDOOR SURFACE:
68 m²
•
OUTDOOR SURFACE:
24 m²
•
€ 163.900
FEATURES
VIEW
•

Pool view

•

Urban view

•

Mountain view
ENTERTAINMENT
•

Communal pool

•

Children's pool
COMFORT
•

Shower

•

Elevator

•

Private parking

•

Private indoor parking
EXTERIOR
•

Roof terrace

•

Communal garden

•

Covered terrace
FLOORPLAN