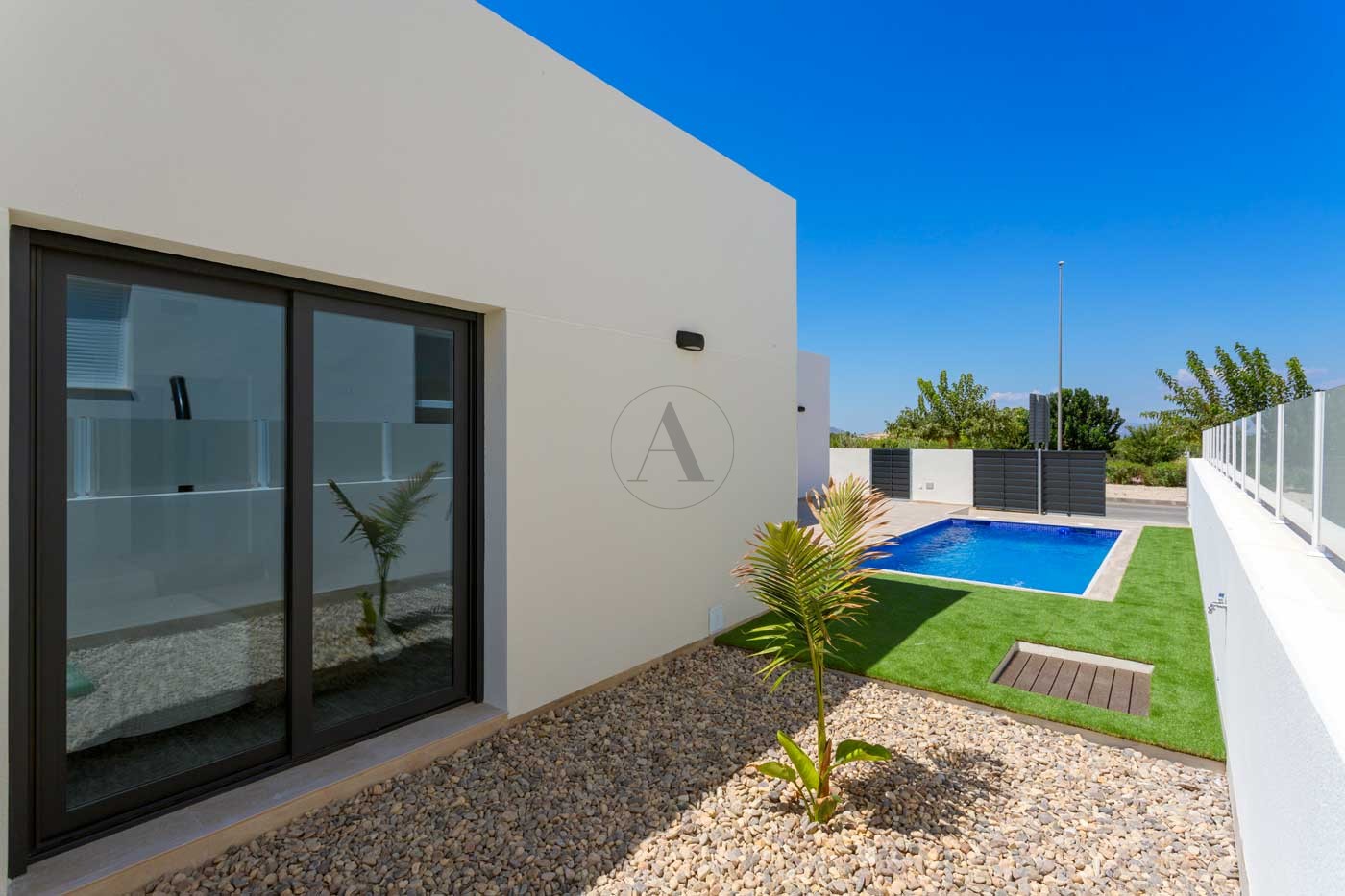 REF: N-104
Modern villas near Spanish village of Daya Nueva
San Fulgencio, Costa Blanca South
From € 299.000
Discover these new build villas for sale at Daya Nueva. A small, charming town in the south of the province Alicante.
The properties are located at only a few minutes walk to the centre of the village.
A development with semi-detached houses. Offering a modern architecture and all on one level design.
Each villa consists of:
3 bedrooms and 2 bathrooms.
Living / dining room with double height ceiling.
Open plan kitchen.
Private pool of 18 sqm.
Optional roof terrace (solarium).
Situated in a new and quiet residential area. About 10 minutes from the beach of La Marina del Pinet and Guardamar del Segura.
Easy access to the A-70 motorway and approximately 25 minutes from Alicante airport.
DISTANCE COM. CENTER
0,6 km
From € 299.000
AVAILABILITY
N-104/13
House
FLOOR:
1
•
BEDROOMS:
3
•
BATHROOMS:
2
INDOOR SURFACE:
106 m²
•
OUTDOOR SURFACE:
65 m²
•
PLOT:
283 m²
€ 359.000
N-104/14
House
FLOOR:
1
•
BEDROOMS:
3
•
BATHROOMS:
2
INDOOR SURFACE:
106 m²
•
OUTDOOR SURFACE:
65 m²
•
PLOT:
274 m²
€ 356.000
N-104/IV.02
House
FLOOR:
1
•
BEDROOMS:
3
•
BATHROOMS:
2
INDOOR SURFACE:
106 m²
•
OUTDOOR SURFACE:
65 m²
•
PLOT:
234 m²
€ 299.000
N-104/IV.03
House
FLOOR:
1
•
BEDROOMS:
3
•
BATHROOMS:
2
INDOOR SURFACE:
106 m²
•
OUTDOOR SURFACE:
65 m²
•
PLOT:
234 m²
€ 299.000
N-104/IV.04
House
FLOOR:
1
•
BEDROOMS:
3
•
BATHROOMS:
2
INDOOR SURFACE:
106 m²
•
OUTDOOR SURFACE:
65 m²
•
PLOT:
234 m²
€ 299.000
N-104/IV.05
House
FLOOR:
1
•
BEDROOMS:
3
•
BATHROOMS:
2
INDOOR SURFACE:
106 m²
•
OUTDOOR SURFACE:
65 m²
•
PLOT:
234 m²
€ 299.000
N-104/IV.06
House
FLOOR:
1
•
BEDROOMS:
3
•
BATHROOMS:
2
INDOOR SURFACE:
106 m²
•
OUTDOOR SURFACE:
65 m²
•
PLOT:
266 m²
€ 309.500
N-104/IV.07
House
FLOOR:
1
•
BEDROOMS:
3
•
BATHROOMS:
2
INDOOR SURFACE:
106 m²
•
OUTDOOR SURFACE:
65 m²
•
PLOT:
256 m²
Sold
N-104/IV.08
House
FLOOR:
1
•
BEDROOMS:
3
•
BATHROOMS:
2
INDOOR SURFACE:
106 m²
•
OUTDOOR SURFACE:
65 m²
•
PLOT:
234 m²
€ 299.000
N-104/IV.09
House
FLOOR:
1
•
BEDROOMS:
3
•
BATHROOMS:
2
INDOOR SURFACE:
106 m²
•
OUTDOOR SURFACE:
65 m²
•
PLOT:
234 m²
€ 299.000
N-104/IV.10
House
FLOOR:
1
•
BEDROOMS:
3
•
BATHROOMS:
2
INDOOR SURFACE:
106 m²
•
OUTDOOR SURFACE:
65 m²
•
PLOT:
234 m²
€ 299.000
N-104/IV.11
House
FLOOR:
1
•
BEDROOMS:
3
•
BATHROOMS:
2
INDOOR SURFACE:
106 m²
•
OUTDOOR SURFACE:
65 m²
•
PLOT:
234 m²
€ 299.000
N-104/IV.12
House
FLOOR:
1
•
BEDROOMS:
3
•
BATHROOMS:
2
INDOOR SURFACE:
106 m²
•
OUTDOOR SURFACE:
65 m²
•
PLOT:
252 m²
€ 304.500
FEATURES
COMFORT
•

Shower

•

Suitable for reduced mobility

•

Private parking
EXTERIOR
•

Terrace

•

Garden

•

Roof terrace
FLOORPLAN