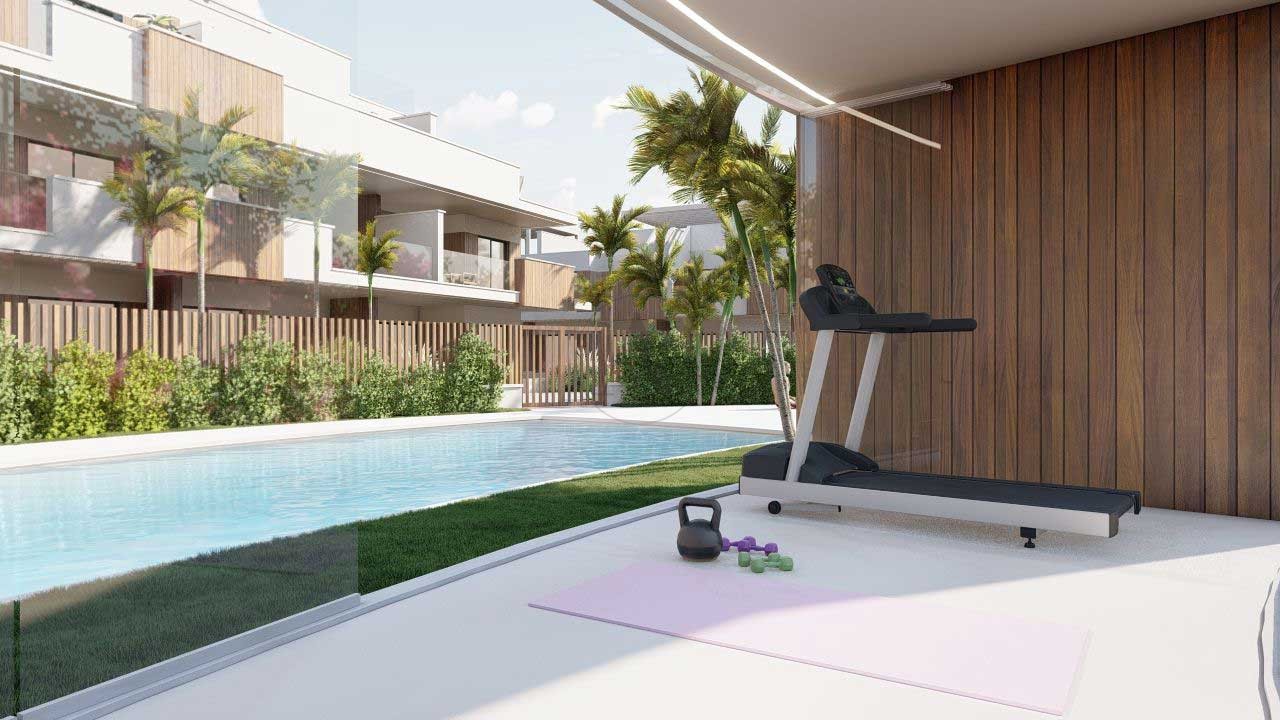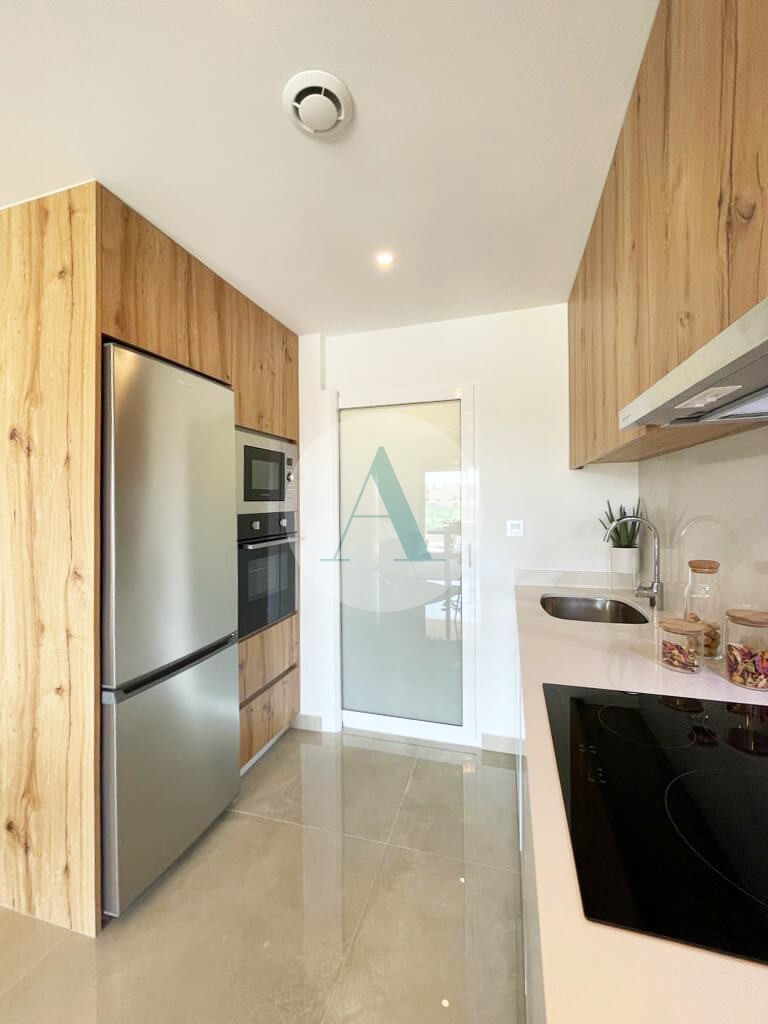 REF: N-137
Trendy new flats in Pilar de la Horadada
Pilar De La Horadada, Costa Blanca South
From € 249.900
A new development close to the center of Pilar de la Horadada and its sandy beaches.

It consists of 34 apartments divided into 3 buildings.
Of which 2 offer apartments of a ground floor level with garden. And apartments on the top floor level with sunny roof terrace and exterior kitchen.
The other building, consists of a ground floor, middle floor and top floor. Here the top floor apartments come with a private jacuzzi and artificial grass on the rooftop.

All apartments are overlooking a beautiful communal area with large swimming pool, garden and jacuzzi.
There's even a gym and playground for children.
Each property comes with a private underground parking and storage room.

DISTANCE COM. CENTER
1 km
From € 249.900
AVAILABILITY
N-137/02
Apartment
FLOOR:
1
•
BEDROOMS:
3
•
BATHROOMS:
2
INDOOR SURFACE:
79 m²
•
OUTDOOR SURFACE:
117 m²
•
Sold
N-137/04
Apartment
FLOOR:
1
•
BEDROOMS:
2
•
BATHROOMS:
2
INDOOR SURFACE:
61 m²
•
OUTDOOR SURFACE:
84 m²
•
€ 269.900
N-137/05
Apartment
FLOOR:
0
•
BEDROOMS:
2
•
BATHROOMS:
2
INDOOR SURFACE:
60 m²
•
OUTDOOR SURFACE:
44 m²
•
€ 229.900
N-137/06
Apartment
FLOOR:
1
•
BEDROOMS:
2
•
BATHROOMS:
2
INDOOR SURFACE:
61 m²
•
OUTDOOR SURFACE:
84 m²
•
€ 269.900
N-137/07
Apartment
FLOOR:
0
•
BEDROOMS:
2
•
BATHROOMS:
2
INDOOR SURFACE:
62 m²
•
OUTDOOR SURFACE:
61 m²
•
Sold
N-137/08
Apartment
FLOOR:
1
•
BEDROOMS:
2
•
BATHROOMS:
2
INDOOR SURFACE:
62 m²
•
OUTDOOR SURFACE:
86 m²
•
€ 289.900
N-137/09
Apartment
FLOOR:
0
•
BEDROOMS:
2
•
BATHROOMS:
2
INDOOR SURFACE:
66 m²
•
OUTDOOR SURFACE:
97 m²
•
€ 289.900
N-137/10
Apartment
FLOOR:
0
•
BEDROOMS:
2
•
BATHROOMS:
2
INDOOR SURFACE:
61 m²
•
OUTDOOR SURFACE:
34 m²
•
€ 259.900
N-137/11
Apartment
FLOOR:
0
•
BEDROOMS:
2
•
BATHROOMS:
2
INDOOR SURFACE:
61 m²
•
OUTDOOR SURFACE:
34 m²
•
€ 259.900
N-137/12
Apartment
FLOOR:
0
•
BEDROOMS:
2
•
BATHROOMS:
2
INDOOR SURFACE:
61 m²
•
OUTDOOR SURFACE:
34 m²
•
Sold
N-137/13
Apartment
FLOOR:
0
•
BEDROOMS:
2
•
BATHROOMS:
2
INDOOR SURFACE:
61 m²
•
OUTDOOR SURFACE:
34 m²
•
€ 259.900
N-137/14
Apartment
FLOOR:
0
•
BEDROOMS:
2
•
BATHROOMS:
2
INDOOR SURFACE:
66 m²
•
OUTDOOR SURFACE:
97 m²
•
€ 279.900
N-137/15
Apartment
FLOOR:
1
•
BEDROOMS:
2
•
BATHROOMS:
2
INDOOR SURFACE:
66 m²
•
OUTDOOR SURFACE:
45 m²
•
€ 259.900
N-137/20
Apartment
FLOOR:
1
•
BEDROOMS:
2
•
BATHROOMS:
2
INDOOR SURFACE:
66 m²
•
OUTDOOR SURFACE:
45 m²
•
Sold
N-137/21
Apartment
FLOOR:
2
•
BEDROOMS:
3
•
BATHROOMS:
2
INDOOR SURFACE:
101 m²
•
OUTDOOR SURFACE:
182 m²
•
Sold
N-137/22
Apartment
FLOOR:
2
•
BEDROOMS:
2
•
BATHROOMS:
2
INDOOR SURFACE:
54 m²
•
OUTDOOR SURFACE:
84 m²
•
€ 339.900
N-137/23
Apartment
FLOOR:
2
•
BEDROOMS:
2
•
BATHROOMS:
2
INDOOR SURFACE:
54 m²
•
OUTDOOR SURFACE:
84 m²
•
€ 339.900
N-137/24
Apartment
FLOOR:
2
•
BEDROOMS:
3
•
BATHROOMS:
2
INDOOR SURFACE:
101 m²
•
OUTDOOR SURFACE:
182 m²
•
Sold
N-137/25
Apartment
FLOOR:
0
•
BEDROOMS:
2
•
BATHROOMS:
2
INDOOR SURFACE:
61 m²
•
OUTDOOR SURFACE:
115 m²
•
€ 279.900
N-137/26
Apartment
FLOOR:
1
•
BEDROOMS:
2
•
BATHROOMS:
2
INDOOR SURFACE:
62 m²
•
OUTDOOR SURFACE:
86 m²
•
€ 289.900
N-137/27
Apartment
FLOOR:
0
•
BEDROOMS:
2
•
BATHROOMS:
2
INDOOR SURFACE:
60 m²
•
OUTDOOR SURFACE:
44 m²
•
€ 239.900
N-137/28
Apartment
FLOOR:
1
•
BEDROOMS:
2
•
BATHROOMS:
2
INDOOR SURFACE:
61 m²
•
OUTDOOR SURFACE:
84 m²
•
€ 279.900
N-137/29
Apartment
FLOOR:
0
•
BEDROOMS:
2
•
BATHROOMS:
2
INDOOR SURFACE:
60 m²
•
OUTDOOR SURFACE:
44 m²
•
Sold
N-137/30
Apartment
FLOOR:
1
•
BEDROOMS:
2
•
BATHROOMS:
2
INDOOR SURFACE:
61 m²
•
OUTDOOR SURFACE:
84 m²
•
Sold
N-137/31
Apartment
FLOOR:
0
•
BEDROOMS:
2
•
BATHROOMS:
2
INDOOR SURFACE:
61 m²
•
OUTDOOR SURFACE:
51 m²
•
€ 279.900
N-137/32
Apartment
FLOOR:
1
•
BEDROOMS:
2
•
BATHROOMS:
2
INDOOR SURFACE:
61 m²
•
OUTDOOR SURFACE:
84 m²
•
€ 299.900
N-137/33
Apartment
FLOOR:
0
•
BEDROOMS:
2
•
BATHROOMS:
2
INDOOR SURFACE:
63 m²
•
OUTDOOR SURFACE:
87 m²
•
€ 319.900
FEATURES
VIEW
•

Distant sea view

•

Pool view

•

Garden view
ENTERTAINMENT
•

Communal pool

•

Jacuzzi

•

Communal jucuzzi

•

Communal gym

•

Playground

•

Outdoor kitchen
COMFORT
•

Shower

•

Elevator

•

Suitable for reduced mobility

•

Private parking

•

Private indoor parking

•

Storage room

•

Awning

•

Shutters
EXTERIOR
•

Terrace

•

Garden

•

Balcony

•

Roof terrace

•

Landscaped garden

•

Communal garden

•

Covered terrace
HEATING / COOLING
•

Floor heating (bathroom)

•

Electric boiler
FLOORPLAN