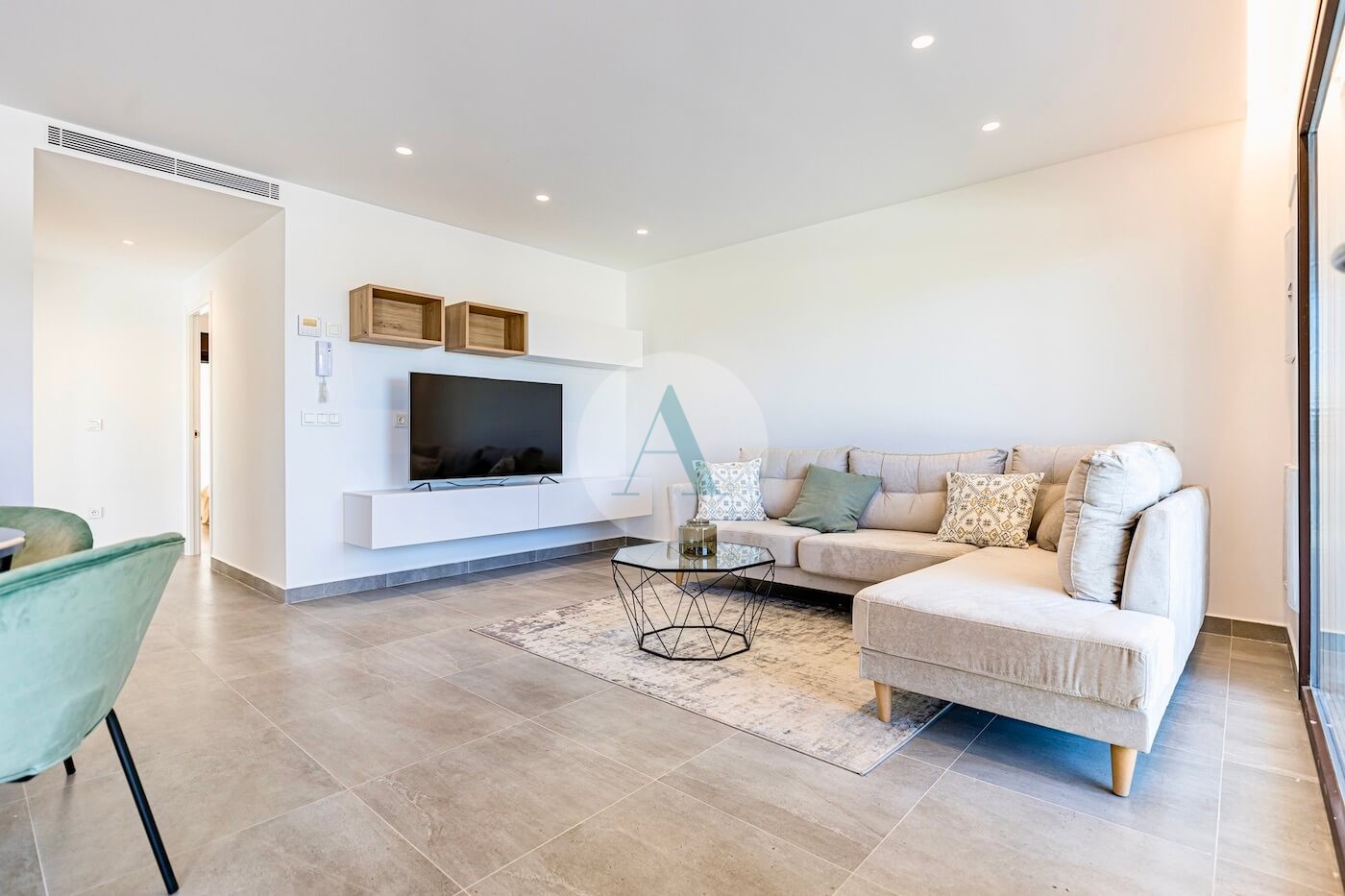 REF: N-243
Small-scale new build project in Pilar de la horadada
Pilar De La Horadada, Costa Blanca South
From € 204.000
We present you this small-scale residential complex made of 22 beautiful homes with a layout of 2 bedrooms, 2 bathrooms and a living room-kitchen.

The homes on the ground floor have a large garden finished with artificial grass. On the top floor you can enjoy the sun all year round from the balcony and private roof terrace.
To complete the project there is a communal area with a swimming pool and a parking space.

The apartments are finished qualitatively with materials including Porcelanosa. Kitchen appliances are also included and there is pre-installation for airconditioning.

The residence is located on the absolute south of the Costa Blanca, a town named Pilar de la Horadada. It is located on a few minutes walk from the commercial area of the city. Several beaches are easily accessible by car or bicycle.

In the surroundings of the residential complex there multiple facilities and new developments. Schools, parks, paddle tennis courts, police and firefighters are all in the proximity.

Have a look at this project with Adaleta!
DISTANCE COM. CENTER
0,8 km
From € 204.000
AVAILABILITY
N-243/0.A
Apartment
FLOOR:
0
•
BEDROOMS:
2
•
BATHROOMS:
2
INDOOR SURFACE:
82 m²
•
OUTDOOR SURFACE:
36 m²
•
€ 232.000
N-243/0.H
Apartment
FLOOR:
0
•
BEDROOMS:
2
•
BATHROOMS:
2
INDOOR SURFACE:
80 m²
•
OUTDOOR SURFACE:
27 m²
•
€ 230.000
N-243/0.I
Apartment
FLOOR:
0
•
BEDROOMS:
2
•
BATHROOMS:
2
INDOOR SURFACE:
80 m²
•
OUTDOOR SURFACE:
27 m²
•
€ 215.000
N-243/0.J
Apartment
FLOOR:
0
•
BEDROOMS:
2
•
BATHROOMS:
2
INDOOR SURFACE:
82 m²
•
OUTDOOR SURFACE:
104 m²
•
€ 249.000
N-243/0.O
Apartment
FLOOR:
0
•
BEDROOMS:
2
•
BATHROOMS:
2
INDOOR SURFACE:
82 m²
•
OUTDOOR SURFACE:
71 m²
•
€ 242.000
N-243/0.P
Apartment
FLOOR:
0
•
BEDROOMS:
2
•
BATHROOMS:
2
INDOOR SURFACE:
80 m²
•
OUTDOOR SURFACE:
28 m²
•
€ 204.000
N-243/1.D
Apartment
FLOOR:
1
•
BEDROOMS:
2
•
BATHROOMS:
2
INDOOR SURFACE:
75 m²
•
OUTDOOR SURFACE:
77 m²
•
€ 249.000
N-243/1.E
Apartment
FLOOR:
1
•
BEDROOMS:
2
•
BATHROOMS:
2
INDOOR SURFACE:
75 m²
•
OUTDOOR SURFACE:
77 m²
•
€ 249.000
N-243/1.F
Apartment
FLOOR:
1
•
BEDROOMS:
2
•
BATHROOMS:
2
INDOOR SURFACE:
75 m²
•
OUTDOOR SURFACE:
77 m²
•
€ 249.000
N-243/1.K
Apartment
FLOOR:
1
•
BEDROOMS:
2
•
BATHROOMS:
2
INDOOR SURFACE:
75 m²
•
OUTDOOR SURFACE:
77 m²
•
€ 249.000
N-243/1.L
Apartment
FLOOR:
1
•
BEDROOMS:
2
•
BATHROOMS:
2
INDOOR SURFACE:
75 m²
•
OUTDOOR SURFACE:
77 m²
•
€ 249.000
N-243/1.N
Apartment
FLOOR:
1
•
BEDROOMS:
2
•
BATHROOMS:
2
INDOOR SURFACE:
75 m²
•
OUTDOOR SURFACE:
77 m²
•
€ 226.000
N-243/1.S
Apartment
FLOOR:
1
•
BEDROOMS:
2
•
BATHROOMS:
2
INDOOR SURFACE:
75 m²
•
OUTDOOR SURFACE:
77 m²
•
€ 237.000
N-243/1.T
Apartment
FLOOR:
1
•
BEDROOMS:
2
•
BATHROOMS:
2
INDOOR SURFACE:
75 m²
•
OUTDOOR SURFACE:
77 m²
•
€ 237.000
N-243/1.U
Apartment
FLOOR:
1
•
BEDROOMS:
2
•
BATHROOMS:
2
INDOOR SURFACE:
75 m²
•
OUTDOOR SURFACE:
77 m²
•
€ 237.000
FEATURES
COMFORT
•

Shower

•

Community parking
EXTERIOR
•

Terrace

•

Garden

•

Balcony

•

Roof terrace

•

Landscaped garden

•

Communal garden

•

Covered terrace
WHITE GOODS
•

Oven

•

Microwave

•

Dishwasher

•

Extractor

•

Induction hob

•

Refrigerator

•

Freezer
FLOORPLAN