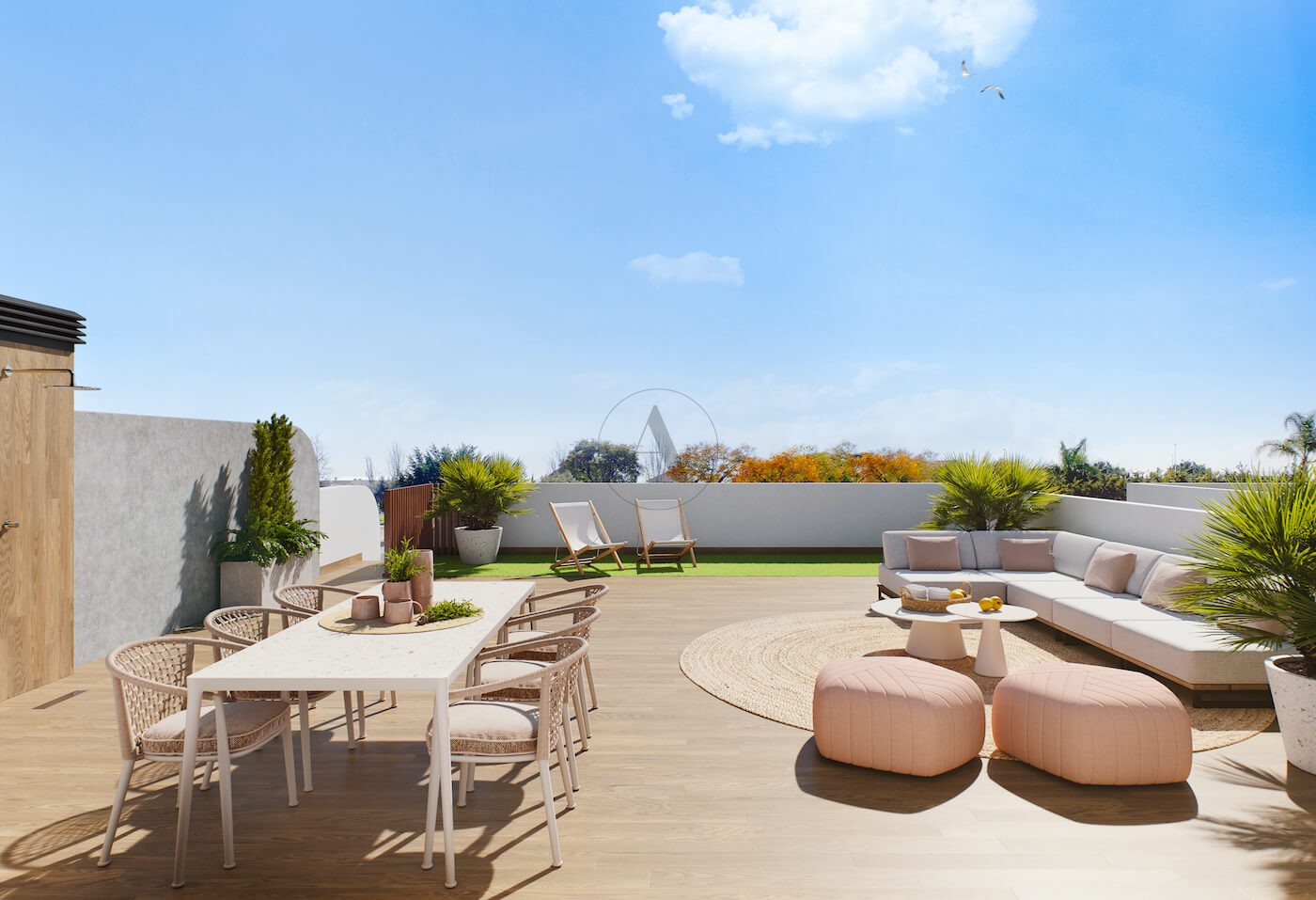 REF: N-181
New launch of modern new-build apartments with 2 or 3 bedrooms
Pilar De La Horadada, Costa Blanca South
From € 199.400
Welcome to this unique project that has just been launched! This is a residence with a total of 24 apartments with 2 or 3 bedrooms and 2 bathrooms.
There are 2 types of properties:
Ground-floor apartments with two terraces (front and back) and access to the communal area with swimming pool
First-floor apartments with balcony and private roof terrace
All feature generous outdoor spaces to enjoy the mild Mediterranean climate.
The project is located just 500m from the centre of Pilar de la Horadada. In other words, close to all amenities! The beach of Torre de la Horadada can be reached in less than 4km. There is a beautiful sandy beach where there are some nice beach bars but also a long boardwalk.
This new complex has a communal area with a large swimming pool and a garden with artificial grass. All properties have a private parking space.
DISTANCE COM. CENTER
0,5 km
From € 199.400
AVAILABILITY
N-181/1I-68
Apartment
FLOOR:
1
•
BEDROOMS:
3
•
BATHROOMS:
2
INDOOR SURFACE:
86 m²
•
OUTDOOR SURFACE:
92 m²
•
Sold
N-181/1K-72
Apartment
FLOOR:
1
•
BEDROOMS:
2
•
BATHROOMS:
2
INDOOR SURFACE:
70 m²
•
OUTDOOR SURFACE:
72 m²
•
€ 213.900
N-181/BJC-63
Apartment
FLOOR:
0
•
BEDROOMS:
2
•
BATHROOMS:
2
INDOOR SURFACE:
71 m²
•
OUTDOOR SURFACE:
50 m²
•
€ 204.900
N-181/BJD-77
Apartment
FLOOR:
0
•
BEDROOMS:
2
•
BATHROOMS:
2
INDOOR SURFACE:
71 m²
•
OUTDOOR SURFACE:
48 m²
•
€ 204.900
N-181/BJE-79
Apartment
FLOOR:
0
•
BEDROOMS:
2
•
BATHROOMS:
2
INDOOR SURFACE:
70 m²
•
OUTDOOR SURFACE:
53 m²
•
€ 199.400
N-181/BJF-81
Apartment
FLOOR:
0
•
BEDROOMS:
2
•
BATHROOMS:
2
INDOOR SURFACE:
71 m²
•
OUTDOOR SURFACE:
89 m²
•
Sold
N-181/BJI-62
Apartment
FLOOR:
0
•
BEDROOMS:
3
•
BATHROOMS:
2
INDOOR SURFACE:
86 m²
•
OUTDOOR SURFACE:
57 m²
•
Sold
N-181/BJJ-76
Apartment
FLOOR:
0
•
BEDROOMS:
2
•
BATHROOMS:
2
INDOOR SURFACE:
71 m²
•
OUTDOOR SURFACE:
50 m²
•
€ 204.900
N-181/BJK-78
Apartment
FLOOR:
0
•
BEDROOMS:
2
•
BATHROOMS:
2
INDOOR SURFACE:
70 m²
•
OUTDOOR SURFACE:
48 m²
•
€ 199.400
N-181/BJL-80
Apartment
FLOOR:
0
•
BEDROOMS:
3
•
BATHROOMS:
2
INDOOR SURFACE:
87 m²
•
OUTDOOR SURFACE:
96 m²
•
€ 237.900
FEATURES
ENTERTAINMENT
•

Communal pool

•

Children's pool
COMFORT
•

Shower

•

Private parking

•

Shutters
EXTERIOR
•

Terrace

•

Garden

•

Balcony

•

Roof terrace

•

Communal garden

•

Covered terrace
FLOORPLAN