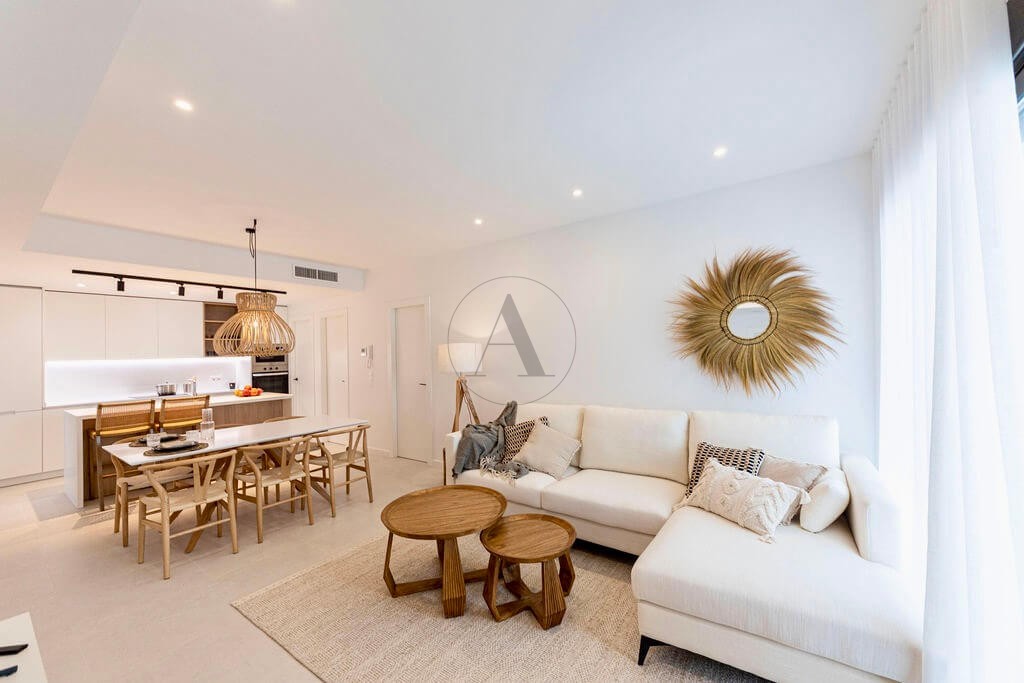 REF: N-195
New complex of the popular Playamar residences in Pilar de la Horadada
Pilar De La Horadada, Costa Blanca South
From € 235.900
Welcome to this new, fun residence in Pilar de la Horadada! A new phase of this popular residence that has already been built in several other locations. In its first phase, this new project will feature 16 modern flats with 2 or 3 bedrooms.

The ground-floor units feature spacious terraces, while the 1st-floor apartments can enjoy a balcony and a private roof terrace.

The properties will be equipped with LED lighting, electrical appliances, aerothermal boiler, air conditioning and underfloor heating in the bathrooms. The roof terraces will be equipped with pergola, outdoor kitchen, artificial grass and lighting.
The residence features a communal swimming pool and garden. There is also a bike storage room in the residence with a capacity for 2 bikes per property.

This project is located near the centre of Pilar de la Horadada, a pleasant Spanish municipality. The beautiful sandy beach can be reached in less than 10 minutes by car.

Contact us now for a viewing at the show house!
DISTANCE COM. CENTER
0,4 km
From € 235.900
AVAILABILITY
N-195/01
Apartment
FLOOR:
0
•
BEDROOMS:
2
•
BATHROOMS:
2
INDOOR SURFACE:
75 m²
•
OUTDOOR SURFACE:
52 m²
•
€ 246.900
N-195/02
Apartment
FLOOR:
0
•
BEDROOMS:
2
•
BATHROOMS:
2
INDOOR SURFACE:
74 m²
•
OUTDOOR SURFACE:
46 m²
•
Sold
N-195/03
Apartment
FLOOR:
0
•
BEDROOMS:
2
•
BATHROOMS:
2
INDOOR SURFACE:
74 m²
•
OUTDOOR SURFACE:
46 m²
•
€ 241.900
N-195/04
Apartment
FLOOR:
0
•
BEDROOMS:
2
•
BATHROOMS:
2
INDOOR SURFACE:
72 m²
•
OUTDOOR SURFACE:
47 m²
•
€ 241.900
N-195/05
Apartment
FLOOR:
0
•
BEDROOMS:
2
•
BATHROOMS:
2
INDOOR SURFACE:
72 m²
•
OUTDOOR SURFACE:
47 m²
•
€ 235.900
N-195/06
Apartment
FLOOR:
0
•
BEDROOMS:
2
•
BATHROOMS:
2
INDOOR SURFACE:
74 m²
•
OUTDOOR SURFACE:
46 m²
•
€ 235.900
N-195/07
Apartment
FLOOR:
0
•
BEDROOMS:
2
•
BATHROOMS:
2
INDOOR SURFACE:
74 m²
•
OUTDOOR SURFACE:
46 m²
•
Sold
N-195/08
Apartment
FLOOR:
0
•
BEDROOMS:
2
•
BATHROOMS:
2
INDOOR SURFACE:
72 m²
•
OUTDOOR SURFACE:
47 m²
•
€ 246.900
N-195/09
Apartment
FLOOR:
1
•
BEDROOMS:
2
•
BATHROOMS:
2
INDOOR SURFACE:
93 m²
•
OUTDOOR SURFACE:
87 m²
•
Sold
N-195/10
Apartment
FLOOR:
1
•
BEDROOMS:
3
•
BATHROOMS:
2
INDOOR SURFACE:
93 m²
•
OUTDOOR SURFACE:
97 m²
•
Sold
N-195/11
Apartment
FLOOR:
1
•
BEDROOMS:
3
•
BATHROOMS:
2
INDOOR SURFACE:
93 m²
•
OUTDOOR SURFACE:
97 m²
•
€ 309.900
N-195/12
Apartment
FLOOR:
1
•
BEDROOMS:
2
•
BATHROOMS:
2
INDOOR SURFACE:
80 m²
•
OUTDOOR SURFACE:
82 m²
•
Sold
N-195/13
Apartment
FLOOR:
1
•
BEDROOMS:
2
•
BATHROOMS:
2
INDOOR SURFACE:
80 m²
•
OUTDOOR SURFACE:
82 m²
•
Sold
N-195/14
Apartment
FLOOR:
1
•
BEDROOMS:
3
•
BATHROOMS:
2
INDOOR SURFACE:
93 m²
•
OUTDOOR SURFACE:
97 m²
•
Sold
N-195/15
Apartment
FLOOR:
1
•
BEDROOMS:
3
•
BATHROOMS:
2
INDOOR SURFACE:
93 m²
•
OUTDOOR SURFACE:
97 m²
•
Sold
N-195/16
Apartment
FLOOR:
1
•
BEDROOMS:
3
•
BATHROOMS:
2
INDOOR SURFACE:
101 m²
•
OUTDOOR SURFACE:
97 m²
•
Sold
N-195/17
Apartment
FLOOR:
0
•
BEDROOMS:
2
•
BATHROOMS:
2
INDOOR SURFACE:
75 m²
•
OUTDOOR SURFACE:
52 m²
•
€ 254.900
N-195/18
Apartment
FLOOR:
0
•
BEDROOMS:
2
•
BATHROOMS:
2
INDOOR SURFACE:
75 m²
•
OUTDOOR SURFACE:
52 m²
•
€ 254.900
N-195/19
Apartment
FLOOR:
0
•
BEDROOMS:
2
•
BATHROOMS:
2
INDOOR SURFACE:
75 m²
•
OUTDOOR SURFACE:
52 m²
•
€ 261.900
N-195/20
Apartment
FLOOR:
0
•
BEDROOMS:
2
•
BATHROOMS:
2
INDOOR SURFACE:
75 m²
•
OUTDOOR SURFACE:
52 m²
•
€ 259.900
N-195/21
Apartment
FLOOR:
0
•
BEDROOMS:
2
•
BATHROOMS:
2
INDOOR SURFACE:
75 m²
•
OUTDOOR SURFACE:
52 m²
•
€ 250.900
N-195/22
Apartment
FLOOR:
0
•
BEDROOMS:
2
•
BATHROOMS:
2
INDOOR SURFACE:
75 m²
•
OUTDOOR SURFACE:
52 m²
•
€ 250.900
N-195/23
Apartment
FLOOR:
0
•
BEDROOMS:
2
•
BATHROOMS:
2
INDOOR SURFACE:
75 m²
•
OUTDOOR SURFACE:
52 m²
•
€ 250.900
N-195/24
Apartment
FLOOR:
1
•
BEDROOMS:
3
•
BATHROOMS:
2
INDOOR SURFACE:
93 m²
•
OUTDOOR SURFACE:
97 m²
•
€ 319.900
N-195/25
Apartment
FLOOR:
1
•
BEDROOMS:
3
•
BATHROOMS:
2
INDOOR SURFACE:
93 m²
•
OUTDOOR SURFACE:
97 m²
•
€ 319.900
N-195/26
Apartment
FLOOR:
1
•
BEDROOMS:
3
•
BATHROOMS:
2
INDOOR SURFACE:
93 m²
•
OUTDOOR SURFACE:
97 m²
•
€ 319.900
N-195/27
Apartment
FLOOR:
1
•
BEDROOMS:
3
•
BATHROOMS:
2
INDOOR SURFACE:
93 m²
•
OUTDOOR SURFACE:
97 m²
•
€ 329.900
N-195/28
Apartment
FLOOR:
1
•
BEDROOMS:
3
•
BATHROOMS:
2
INDOOR SURFACE:
93 m²
•
OUTDOOR SURFACE:
97 m²
•
€ 325.900
N-195/29
Apartment
FLOOR:
1
•
BEDROOMS:
3
•
BATHROOMS:
2
INDOOR SURFACE:
93 m²
•
OUTDOOR SURFACE:
97 m²
•
€ 315.900
N-195/30
Apartment
FLOOR:
1
•
BEDROOMS:
3
•
BATHROOMS:
2
INDOOR SURFACE:
93 m²
•
OUTDOOR SURFACE:
97 m²
•
€ 315.900
N-195/31
Apartment
FLOOR:
1
•
BEDROOMS:
3
•
BATHROOMS:
2
INDOOR SURFACE:
93 m²
•
OUTDOOR SURFACE:
97 m²
•
€ 315.900
FEATURES
ENTERTAINMENT
•

Communal pool

•

Children's pool

•

Outdoor kitchen
COMFORT
•

Shower

•

Bycicle storage

•

Awning

•

Shutters
EXTERIOR
•

Terrace

•

Garden

•

Balcony

•

Roof terrace

•

Landscaped garden

•

Communal garden
WHITE GOODS
•

Oven

•

Dishwasher

•

Washing machine

•

Extractor

•

Ceramic hob

•

Refrigerator

•

Freezer
HEATING / COOLING
•

Airconditioning

•

Electric heating

•

Floor heating (bathroom)

•

Electric boiler
FLOORPLAN