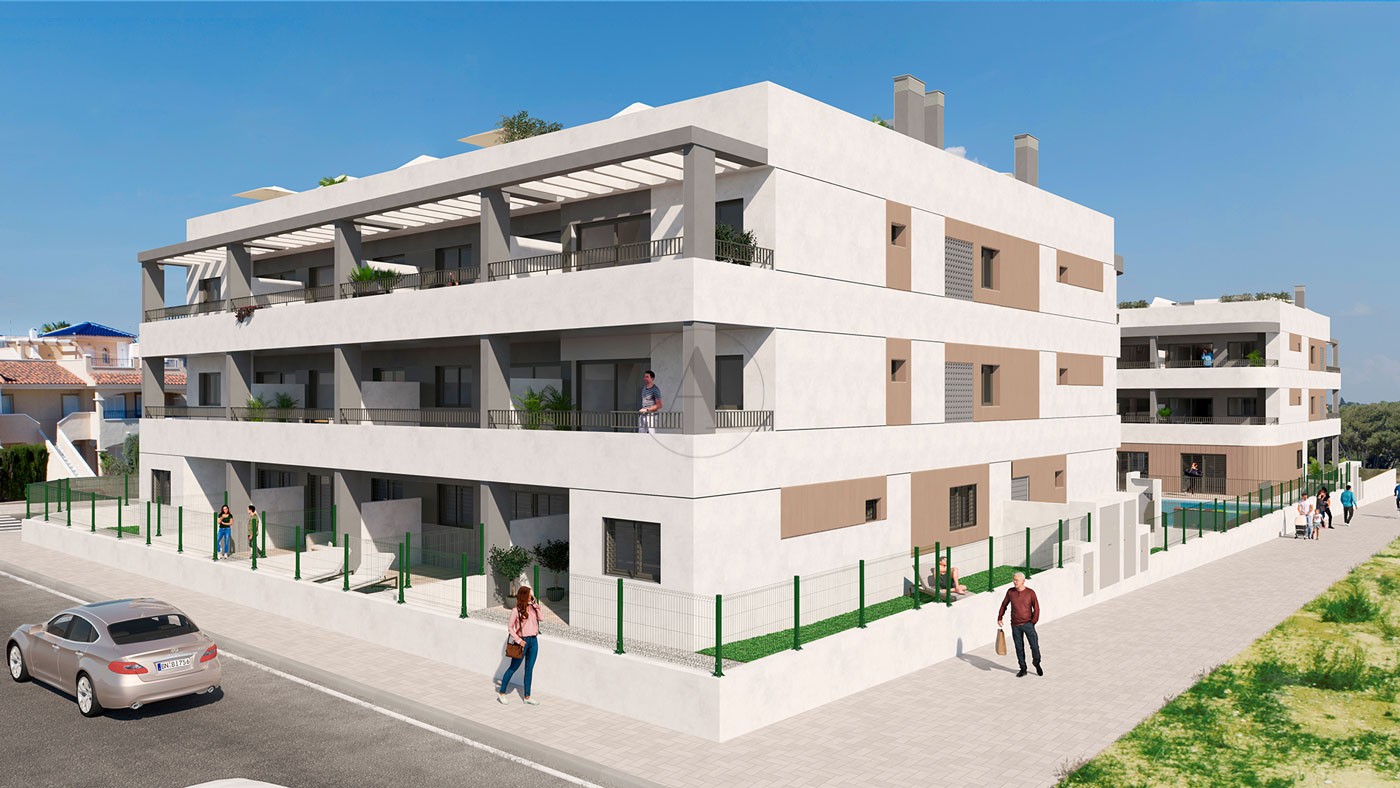 REF: N-174
New build flats near the sandy beach
Pilar De La Horadada, Costa Blanca South
From € 160.000
We present this new project located in the area of Riomar - Mil Palmeras in the municipality of Pilar de la Horadada.
This new residential has
46 assistance flats
. Distributed on ground floor and 2 floors, in a single block.
It will also have a basement floor under the block for parking spaces and storage rooms. In addition, the building has a solarium floor, where 24 private solariums are located. Common areas on the ground floor: swimming pool, swimming pool beach, equipped gymnasium, reception, equipped common room, equipped physiotherapy room and equipped beauty room.
The care flats to be developed will be :
24 units of 1 bedroom + 1 bathroom
14 units of 2 bedrooms + 1 bathroom
8 units of 2 bedrooms + 2 bathrooms
All in various models of different sizes.
What assistance is there?
Each assistance flat consists of
24/7 assistance, so that you can live with peace of mind and security, consisting of a terminal and a push button that connects you to Red Cross professionals 24 hours a day, 365 days a year. Facilitating an immediate response and intervention in the event of any need or eventuality.
The push button, which can be worn on the wrist at all times, as it is waterproof. In case of need, just press it.
In the event of an emergency, the Red Cross is responsible for notifying the contact persons, as well as doctors, police, firemen, ...
DISTANCE COM. CENTER
1,4 km
From € 160.000
AVAILABILITY
N-174/0.B-7
Apartment
FLOOR:
0
•
BEDROOMS:
1
•
BATHROOMS:
1
INDOOR SURFACE:
58 m²
•
OUTDOOR SURFACE:
10 m²
•
€ 162.000
N-174/0.D-8
Apartment
FLOOR:
0
•
BEDROOMS:
1
•
BATHROOMS:
1
INDOOR SURFACE:
56 m²
•
OUTDOOR SURFACE:
43 m²
•
Sold
N-174/0.F-12
Apartment
FLOOR:
0
•
BEDROOMS:
2
•
BATHROOMS:
1
INDOOR SURFACE:
71 m²
•
OUTDOOR SURFACE:
70 m²
•
€ 180.000
N-174/0.G-4
Apartment
FLOOR:
0
•
BEDROOMS:
2
•
BATHROOMS:
1
INDOOR SURFACE:
74 m²
•
OUTDOOR SURFACE:
14 m²
•
€ 185.000
N-174/0.G-5
Apartment
FLOOR:
0
•
BEDROOMS:
2
•
BATHROOMS:
1
INDOOR SURFACE:
74 m²
•
OUTDOOR SURFACE:
14 m²
•
€ 184.000
N-174/0.K1-6
Apartment
FLOOR:
0
•
BEDROOMS:
2
•
BATHROOMS:
2
INDOOR SURFACE:
83 m²
•
OUTDOOR SURFACE:
11 m²
•
Sold
N-174/1.B2-19
Apartment
FLOOR:
1
•
BEDROOMS:
1
•
BATHROOMS:
1
INDOOR SURFACE:
59 m²
•
OUTDOOR SURFACE:
10 m²
•
€ 160.000
N-174/1.G1-21
Apartment
FLOOR:
1
•
BEDROOMS:
2
•
BATHROOMS:
1
INDOOR SURFACE:
67 m²
•
OUTDOOR SURFACE:
46 m²
•
€ 195.000
N-174/1.G3-22
Apartment
FLOOR:
1
•
BEDROOMS:
2
•
BATHROOMS:
1
INDOOR SURFACE:
67 m²
•
OUTDOOR SURFACE:
50 m²
•
Sold
N-174/1.K2-20
Apartment
FLOOR:
1
•
BEDROOMS:
2
•
BATHROOMS:
2
INDOOR SURFACE:
75 m²
•
OUTDOOR SURFACE:
46 m²
•
Sold
N-174/1.L1-17
Apartment
FLOOR:
1
•
BEDROOMS:
2
•
BATHROOMS:
2
INDOOR SURFACE:
86 m²
•
OUTDOOR SURFACE:
50 m²
•
Sold
N-174/2.A5-44
Apartment
FLOOR:
2
•
BEDROOMS:
1
•
BATHROOMS:
1
INDOOR SURFACE:
52 m²
•
OUTDOOR SURFACE:
44 m²
•
€ 165.000
N-174/2.A6-43
Apartment
FLOOR:
2
•
BEDROOMS:
1
•
BATHROOMS:
1
INDOOR SURFACE:
52 m²
•
OUTDOOR SURFACE:
45 m²
•
Sold
N-174/2.B3-35
Apartment
FLOOR:
2
•
BEDROOMS:
1
•
BATHROOMS:
1
INDOOR SURFACE:
59 m²
•
OUTDOOR SURFACE:
44 m²
•
€ 180.000
N-174/2.B4-40
Apartment
FLOOR:
2
•
BEDROOMS:
1
•
BATHROOMS:
1
INDOOR SURFACE:
59 m²
•
OUTDOOR SURFACE:
44 m²
•
€ 172.000
N-174/2.G2-38
Apartment
FLOOR:
2
•
BEDROOMS:
2
•
BATHROOMS:
1
INDOOR SURFACE:
67 m²
•
OUTDOOR SURFACE:
45 m²
•
€ 200.000
N-174/2.K4-36
Apartment
FLOOR:
2
•
BEDROOMS:
2
•
BATHROOMS:
2
INDOOR SURFACE:
75 m²
•
OUTDOOR SURFACE:
47 m²
•
Sold
FEATURES
VIEW
•

Pool view

•

Garden view

•

Nature view
ENTERTAINMENT
•

Communal pool

•

Communal gym
COMFORT
•

Shower

•

Elevator

•

Private parking

•

Private indoor parking

•

Shutters
EXTERIOR
•

Terrace

•

Balcony

•

Roof terrace

•

Communal garden

•

Covered terrace
FLOORPLAN