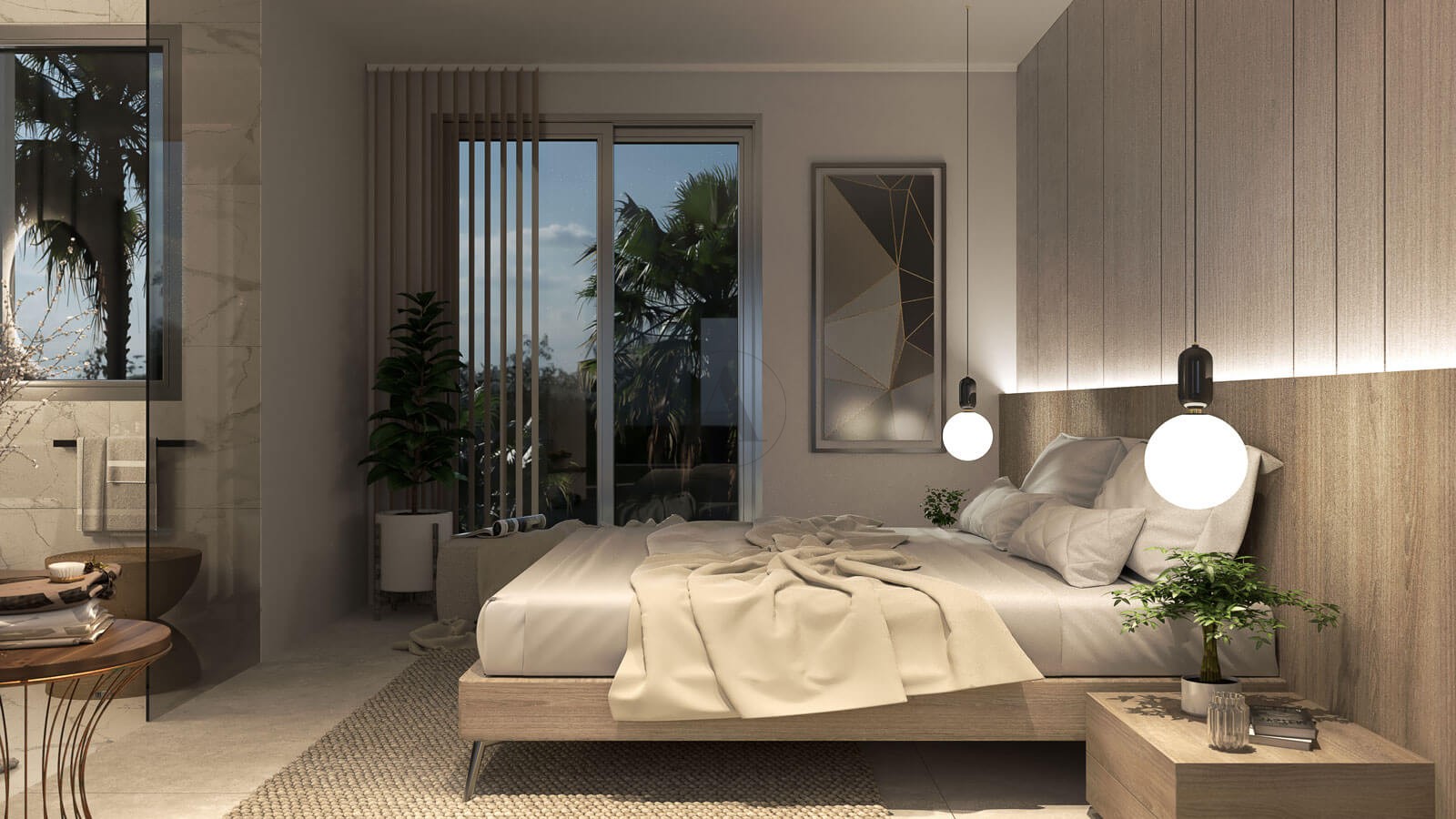 REF: N-173
Premium new build apartments near Cabo Roig
Orihuela-Costa, Costa Blanca South
From € 289.590
We are thrilled to present you this wonderful new build project located at Lomas de Cabo Roig.
A truly modern building consisting of 24 apartments. These flats are spread over a ground floor and 3 floors. Completing the communal characteristics is done with a lovely communal pool and garden (including children area and jacuzzi), BBQ and chill out area, fitness and coworking area, communal toilet, underground basement and parking area, …
Quality and comfort together with a modern architecture and the search for innovation form the base of this project.
In this project you can count on:
A choice between 2 and 3 bedroom apartments.
A fully equipped kitchen.
LED lightning functional and decorative are included.
Airconditioning completely installed and included.
Discover more and contact us for a visit at the site.
LOCATION
Lomas de Cabo Roig
DISTANCE COM. CENTER
0,6 km
From € 289.590
AVAILABILITY
N-173/02
Apartment
FLOOR:
0
•
BEDROOMS:
2
•
BATHROOMS:
2
INDOOR SURFACE:
93 m²
•
OUTDOOR SURFACE:
51 m²
•
Sold
N-173/03
Apartment
FLOOR:
0
•
BEDROOMS:
2
•
BATHROOMS:
2
INDOOR SURFACE:
75 m²
•
OUTDOOR SURFACE:
39 m²
•
€ 289.590
N-173/04
Apartment
FLOOR:
1
•
BEDROOMS:
3
•
BATHROOMS:
2
INDOOR SURFACE:
93 m²
•
OUTDOOR SURFACE:
24 m²
•
€ 329.590
N-173/05
Apartment
FLOOR:
1
•
BEDROOMS:
2
•
BATHROOMS:
2
INDOOR SURFACE:
78 m²
•
OUTDOOR SURFACE:
29 m²
•
€ 309.590
N-173/06
Apartment
FLOOR:
1
•
BEDROOMS:
2
•
BATHROOMS:
2
INDOOR SURFACE:
75 m²
•
OUTDOOR SURFACE:
25 m²
•
€ 299.590
N-173/07
Apartment
FLOOR:
2
•
BEDROOMS:
3
•
BATHROOMS:
2
INDOOR SURFACE:
93 m²
•
OUTDOOR SURFACE:
30 m²
•
€ 395.590
N-173/08
Apartment
FLOOR:
2
•
BEDROOMS:
2
•
BATHROOMS:
2
INDOOR SURFACE:
78 m²
•
OUTDOOR SURFACE:
32 m²
•
€ 350.590
N-173/09
Apartment
FLOOR:
2
•
BEDROOMS:
2
•
BATHROOMS:
2
INDOOR SURFACE:
75 m²
•
OUTDOOR SURFACE:
24 m²
•
€ 308.590
N-173/11
Apartment
FLOOR:
3
•
BEDROOMS:
2
•
BATHROOMS:
2
INDOOR SURFACE:
83 m²
•
OUTDOOR SURFACE:
108 m²
•
€ 451.180
N-173/12
Apartment
FLOOR:
3
•
BEDROOMS:
2
•
BATHROOMS:
2
INDOOR SURFACE:
75 m²
•
OUTDOOR SURFACE:
84 m²
•
€ 441.180
FEATURES
VIEW
•

Sea view

•

Pool view

•

Garden view

•

Panoramic view
ENTERTAINMENT
•

Communal pool

•

Communal jucuzzi

•

Communal gym

•

Playground

•

Communal BBQ
COMFORT
•

Shower

•

Elevator

•

Private parking

•

Private indoor parking

•

Storage room

•

Electric shutters
EXTERIOR
•

Terrace

•

Garden

•

Balcony

•

Roof terrace

•

Landscaped garden

•

Communal garden

•

Covered terrace
WHITE GOODS
•

Oven

•

Dishwasher

•

Extractor

•

Induction hob

•

Refrigerator
HEATING / COOLING
•

Airconditioning

•

Ducted airconditioning

•

Electric heating

•

Floor heating (bathroom)

•

Electric boiler
FLOORPLAN