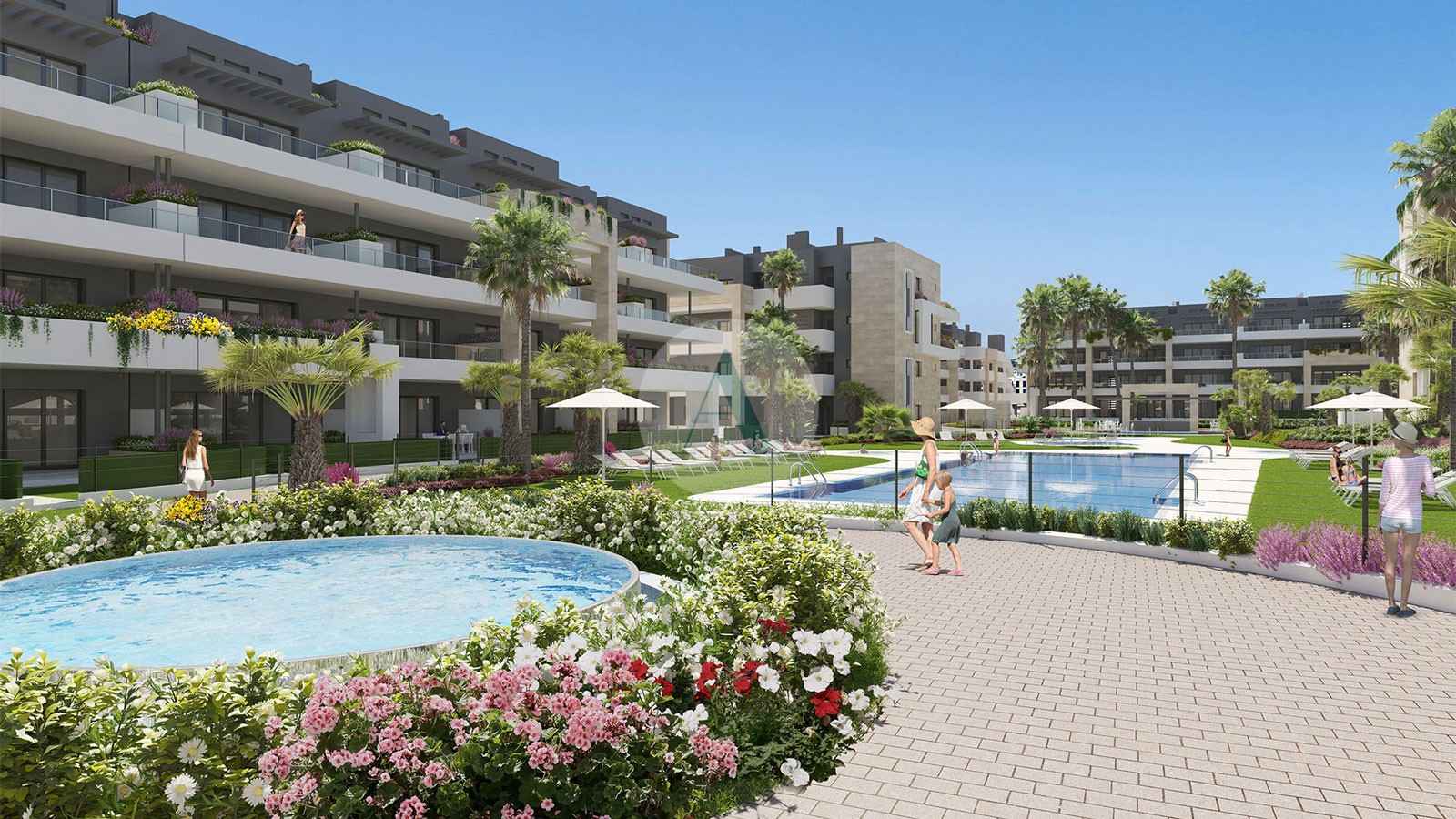 REF: N-206
New build apartments in Playa Flamenca
Orihuela-Costa, Costa Blanca South
From € 300.000
Location is everything, and this project's prime position is a testament to that. Situated a mere 500 meters from the sun-kissed Playa Flamenca beach, residents will enjoy the luxury of strolling along the golden shores of the Costa Blanca South whenever their heart desires. Immerse yourself in the soothing rhythm of the ocean, bask in the warm Mediterranean sun, and create cherished memories just steps from your front door.

Adding to the allure, the development is conveniently located near a vibrant weekly market, providing a delightful blend of local flavors, fresh produce, and artisanal crafts. Experience the essence of the Costa Blanca South as you explore the market stalls and indulge in the region's rich cultural tapestry.

Prepare to be enthralled by the awe-inspiring communal area, spanning over 17,000 square meters. Immerse yourself in the lush, meticulously designed gardens that form a tapestry of natural beauty, bringing tranquility and serenity to your everyday life. Unwind in the crystal-clear pools, designed to create an oasis of relaxation amidst the vibrant coastal landscape.

Indulge in the pleasures of a 125-square-meter heated pool, inviting you to swim, exercise, or simply bask in its warm embrace throughout the year. Immerse yourself in a haven of relaxation, where the worries of the day melt away as you embrace the calming waters.

For those with an active lifestyle, the project provides convenient bicycle parking, encouraging you to explore the picturesque surroundings at your own pace. Embark on leisurely rides along the beachfront promenade, feeling the gentle sea breeze caress your face as you revel in the breathtaking coastal scenery.

The allure continues with the enchanting roof terraces, offering a mesmerizing panoramic view of the shimmering sea. As the sun sets over the horizon, indulge in the captivating hues of orange and pink that paint the sky, creating a truly unforgettable backdrop for memorable gatherings and cherished moments.

It's time to turn your dream of living in Playa Flamenca into a reality. Seize this incredible opportunity to become part of a community that embodies luxury, sustainability, and coastal living at its finest. Don't miss your chance to secure your slice of paradise in this exceptional new build project. Contact us today and let us guide you on your journey to your perfect home by the sea.
DISTANCE COM. CENTER
0,2 km
From € 300.000
AVAILABILITY
N-206/F3.265
Apartment
FLOOR:
0
•
BEDROOMS:
2
•
BATHROOMS:
2
INDOOR SURFACE:
78 m²
•
OUTDOOR SURFACE:
36 m²
•
Sold
N-206/F3.316
Apartment
FLOOR:
0
•
BEDROOMS:
2
•
BATHROOMS:
2
INDOOR SURFACE:
78 m²
•
OUTDOOR SURFACE:
47 m²
•
Sold
N-206/F3.348
Apartment
FLOOR:
0
•
BEDROOMS:
3
•
BATHROOMS:
2
INDOOR SURFACE:
101 m²
•
OUTDOOR SURFACE:
48 m²
•
€ 395.000
N-206/F3.359
Apartment
FLOOR:
0
•
BEDROOMS:
3
•
BATHROOMS:
2
INDOOR SURFACE:
98 m²
•
OUTDOOR SURFACE:
104 m²
•
€ 442.000
N-206/F3.360
Apartment
FLOOR:
0
•
BEDROOMS:
3
•
BATHROOMS:
2
INDOOR SURFACE:
101 m²
•
OUTDOOR SURFACE:
51 m²
•
Sold
N-206/F3.363
Apartment
FLOOR:
0
•
BEDROOMS:
2
•
BATHROOMS:
2
INDOOR SURFACE:
78 m²
•
OUTDOOR SURFACE:
35 m²
•
Sold
N-206/F4.383
Apartment
FLOOR:
0
•
BEDROOMS:
3
•
BATHROOMS:
2
INDOOR SURFACE:
107 m²
•
OUTDOOR SURFACE:
119 m²
•
Sold
N-206/F4.384
Apartment
FLOOR:
0
•
BEDROOMS:
2
•
BATHROOMS:
2
INDOOR SURFACE:
80 m²
•
OUTDOOR SURFACE:
36 m²
•
€ 346.000
N-206/F4.385
Apartment
FLOOR:
0
•
BEDROOMS:
2
•
BATHROOMS:
2
INDOOR SURFACE:
80 m²
•
OUTDOOR SURFACE:
37 m²
•
€ 335.000
N-206/F4.386
Apartment
FLOOR:
0
•
BEDROOMS:
2
•
BATHROOMS:
2
INDOOR SURFACE:
80 m²
•
OUTDOOR SURFACE:
35 m²
•
€ 333.000
N-206/F4.387
Apartment
FLOOR:
0
•
BEDROOMS:
2
•
BATHROOMS:
2
INDOOR SURFACE:
80 m²
•
OUTDOOR SURFACE:
38 m²
•
€ 330.000
N-206/F4.388
Apartment
FLOOR:
0
•
BEDROOMS:
2
•
BATHROOMS:
2
INDOOR SURFACE:
88 m²
•
OUTDOOR SURFACE:
61 m²
•
€ 355.000
N-206/F4.390
Apartment
FLOOR:
1
•
BEDROOMS:
2
•
BATHROOMS:
2
INDOOR SURFACE:
80 m²
•
OUTDOOR SURFACE:
23 m²
•
Sold
N-206/F4.392
Apartment
FLOOR:
1
•
BEDROOMS:
2
•
BATHROOMS:
2
INDOOR SURFACE:
80 m²
•
OUTDOOR SURFACE:
18 m²
•
Sold
N-206/F4.393
Apartment
FLOOR:
1
•
BEDROOMS:
2
•
BATHROOMS:
2
INDOOR SURFACE:
80 m²
•
OUTDOOR SURFACE:
20 m²
•
€ 311.000
N-206/F4.394
Apartment
FLOOR:
1
•
BEDROOMS:
2
•
BATHROOMS:
2
INDOOR SURFACE:
88 m²
•
OUTDOOR SURFACE:
22 m²
•
Sold
N-206/F4.395
Apartment
FLOOR:
2
•
BEDROOMS:
3
•
BATHROOMS:
2
INDOOR SURFACE:
109 m²
•
OUTDOOR SURFACE:
30 m²
•
€ 418.000
N-206/F4.396
Apartment
FLOOR:
2
•
BEDROOMS:
2
•
BATHROOMS:
2
INDOOR SURFACE:
80 m²
•
OUTDOOR SURFACE:
18 m²
•
€ 340.000
N-206/F4.397
Apartment
FLOOR:
2
•
BEDROOMS:
2
•
BATHROOMS:
2
INDOOR SURFACE:
80 m²
•
OUTDOOR SURFACE:
18 m²
•
€ 335.000
N-206/F4.398
Apartment
FLOOR:
2
•
BEDROOMS:
2
•
BATHROOMS:
2
INDOOR SURFACE:
80 m²
•
OUTDOOR SURFACE:
18 m²
•
€ 332.000
N-206/F4.399
Apartment
FLOOR:
2
•
BEDROOMS:
2
•
BATHROOMS:
2
INDOOR SURFACE:
80 m²
•
OUTDOOR SURFACE:
20 m²
•
€ 329.000
N-206/F4.400
Apartment
FLOOR:
2
•
BEDROOMS:
2
•
BATHROOMS:
2
INDOOR SURFACE:
88 m²
•
OUTDOOR SURFACE:
22 m²
•
€ 344.000
N-206/F4.402
Apartment
FLOOR:
3
•
BEDROOMS:
2
•
BATHROOMS:
2
INDOOR SURFACE:
80 m²
•
OUTDOOR SURFACE:
83 m²
•
€ 392.000
N-206/F4.403
Apartment
FLOOR:
3
•
BEDROOMS:
2
•
BATHROOMS:
2
INDOOR SURFACE:
80 m²
•
OUTDOOR SURFACE:
83 m²
•
€ 388.000
N-206/F4.404
Apartment
FLOOR:
3
•
BEDROOMS:
2
•
BATHROOMS:
2
INDOOR SURFACE:
80 m²
•
OUTDOOR SURFACE:
83 m²
•
€ 384.000
N-206/F4.405
Apartment
FLOOR:
3
•
BEDROOMS:
2
•
BATHROOMS:
2
INDOOR SURFACE:
80 m²
•
OUTDOOR SURFACE:
90 m²
•
€ 382.000
N-206/F4.406
Apartment
FLOOR:
3
•
BEDROOMS:
2
•
BATHROOMS:
2
INDOOR SURFACE:
88 m²
•
OUTDOOR SURFACE:
93 m²
•
€ 395.000
N-206/F4.409
Apartment
FLOOR:
0
•
BEDROOMS:
2
•
BATHROOMS:
2
INDOOR SURFACE:
80 m²
•
OUTDOOR SURFACE:
37 m²
•
Sold
N-206/F4.417
Apartment
FLOOR:
2
•
BEDROOMS:
3
•
BATHROOMS:
2
INDOOR SURFACE:
109 m²
•
OUTDOOR SURFACE:
30 m²
•
Sold
N-206/F4.423
Apartment
FLOOR:
3
•
BEDROOMS:
2
•
BATHROOMS:
2
INDOOR SURFACE:
80 m²
•
OUTDOOR SURFACE:
84 m²
•
Sold
N-206/F4.424
Apartment
FLOOR:
3
•
BEDROOMS:
2
•
BATHROOMS:
2
INDOOR SURFACE:
80 m²
•
OUTDOOR SURFACE:
83 m²
•
€ 395.000
N-206/F4.427
Apartment
FLOOR:
0
•
BEDROOMS:
2
•
BATHROOMS:
2
INDOOR SURFACE:
88 m²
•
OUTDOOR SURFACE:
70 m²
•
Sold
N-206/F4.429
Apartment
FLOOR:
0
•
BEDROOMS:
2
•
BATHROOMS:
1
INDOOR SURFACE:
76 m²
•
OUTDOOR SURFACE:
35 m²
•
Sold
N-206/F4.430
Apartment
FLOOR:
0
•
BEDROOMS:
2
•
BATHROOMS:
1
INDOOR SURFACE:
76 m²
•
OUTDOOR SURFACE:
35 m²
•
Sold
N-206/F4.431
Apartment
FLOOR:
0
•
BEDROOMS:
2
•
BATHROOMS:
1
INDOOR SURFACE:
76 m²
•
OUTDOOR SURFACE:
32 m²
•
Sold
N-206/F4.432
Apartment
FLOOR:
0
•
BEDROOMS:
2
•
BATHROOMS:
1
INDOOR SURFACE:
78 m²
•
OUTDOOR SURFACE:
85 m²
•
Sold
N-206/F4.441
Apartment
FLOOR:
2
•
BEDROOMS:
2
•
BATHROOMS:
1
INDOOR SURFACE:
76 m²
•
OUTDOOR SURFACE:
18 m²
•
Sold
N-206/F4.442
Apartment
FLOOR:
2
•
BEDROOMS:
2
•
BATHROOMS:
1
INDOOR SURFACE:
76 m²
•
OUTDOOR SURFACE:
18 m²
•
Sold
N-206/F4.444
Apartment
FLOOR:
2
•
BEDROOMS:
2
•
BATHROOMS:
1
INDOOR SURFACE:
78 m²
•
OUTDOOR SURFACE:
21 m²
•
€ 301.000
N-206/F4.447
Apartment
FLOOR:
3
•
BEDROOMS:
2
•
BATHROOMS:
1
INDOOR SURFACE:
76 m²
•
OUTDOOR SURFACE:
82 m²
•
€ 342.000
N-206/F4.448
Apartment
FLOOR:
3
•
BEDROOMS:
2
•
BATHROOMS:
1
INDOOR SURFACE:
76 m²
•
OUTDOOR SURFACE:
82 m²
•
€ 344.000
N-206/F4.449
Apartment
FLOOR:
3
•
BEDROOMS:
2
•
BATHROOMS:
1
INDOOR SURFACE:
76 m²
•
OUTDOOR SURFACE:
82 m²
•
€ 333.000
N-206/F4.450
Apartment
FLOOR:
3
•
BEDROOMS:
2
•
BATHROOMS:
1
INDOOR SURFACE:
76 m²
•
OUTDOOR SURFACE:
86 m²
•
€ 348.000
N-206/F4.451
Apartment
FLOOR:
0
•
BEDROOMS:
2
•
BATHROOMS:
2
INDOOR SURFACE:
91 m²
•
OUTDOOR SURFACE:
98 m²
•
Sold
N-206/F4.452
Apartment
FLOOR:
0
•
BEDROOMS:
2
•
BATHROOMS:
1
INDOOR SURFACE:
76 m²
•
OUTDOOR SURFACE:
42 m²
•
€ 322.000
N-206/F4.457
Apartment
FLOOR:
0
•
BEDROOMS:
2
•
BATHROOMS:
2
INDOOR SURFACE:
88 m²
•
OUTDOOR SURFACE:
87 m²
•
€ 345.000
N-206/F4.458
Apartment
FLOOR:
1
•
BEDROOMS:
2
•
BATHROOMS:
2
INDOOR SURFACE:
91 m²
•
OUTDOOR SURFACE:
31 m²
•
€ 322.000
N-206/F4.459
Apartment
FLOOR:
1
•
BEDROOMS:
2
•
BATHROOMS:
1
INDOOR SURFACE:
76 m²
•
OUTDOOR SURFACE:
18 m²
•
€ 300.000
N-206/F4.463
Apartment
FLOOR:
1
•
BEDROOMS:
2
•
BATHROOMS:
1
INDOOR SURFACE:
76 m²
•
OUTDOOR SURFACE:
19 m²
•
€ 300.000
N-206/F4.465
Apartment
FLOOR:
3
•
BEDROOMS:
2
•
BATHROOMS:
2
INDOOR SURFACE:
91 m²
•
OUTDOOR SURFACE:
31 m²
•
Sold
N-206/F4.466
Apartment
FLOOR:
2
•
BEDROOMS:
2
•
BATHROOMS:
1
INDOOR SURFACE:
76 m²
•
OUTDOOR SURFACE:
18 m²
•
€ 313.000
N-206/F4.467
Apartment
FLOOR:
2
•
BEDROOMS:
3
•
BATHROOMS:
2
INDOOR SURFACE:
100 m²
•
OUTDOOR SURFACE:
19 m²
•
€ 368.000
N-206/F4.470
Apartment
FLOOR:
2
•
BEDROOMS:
2
•
BATHROOMS:
1
INDOOR SURFACE:
76 m²
•
OUTDOOR SURFACE:
19 m²
•
€ 313.000
N-206/F4.471
Apartment
FLOOR:
2
•
BEDROOMS:
2
•
BATHROOMS:
2
INDOOR SURFACE:
88 m²
•
OUTDOOR SURFACE:
22 m²
•
€ 332.000
N-206/F4.473
Apartment
FLOOR:
3
•
BEDROOMS:
2
•
BATHROOMS:
1
INDOOR SURFACE:
76 m²
•
OUTDOOR SURFACE:
82 m²
•
€ 365.000
N-206/F4.474
Apartment
FLOOR:
3
•
BEDROOMS:
3
•
BATHROOMS:
2
INDOOR SURFACE:
100 m²
•
OUTDOOR SURFACE:
92 m²
•
€ 475.000
N-206/F4.478
Apartment
FLOOR:
3
•
BEDROOMS:
2
•
BATHROOMS:
2
INDOOR SURFACE:
88 m²
•
OUTDOOR SURFACE:
93 m²
•
€ 400.000
N-206/F4.479
Apartment
FLOOR:
0
•
BEDROOMS:
2
•
BATHROOMS:
2
INDOOR SURFACE:
91 m²
•
OUTDOOR SURFACE:
77 m²
•
€ 376.000
N-206/F4.480
Apartment
FLOOR:
0
•
BEDROOMS:
2
•
BATHROOMS:
1
INDOOR SURFACE:
76 m²
•
OUTDOOR SURFACE:
46 m²
•
€ 334.000
N-206/F4.481
Apartment
FLOOR:
0
•
BEDROOMS:
2
•
BATHROOMS:
2
INDOOR SURFACE:
80 m²
•
OUTDOOR SURFACE:
42 m²
•
€ 353.000
N-206/F4.482
Apartment
FLOOR:
0
•
BEDROOMS:
3
•
BATHROOMS:
2
INDOOR SURFACE:
102 m²
•
OUTDOOR SURFACE:
63 m²
•
Sold
N-206/F4.484
Apartment
FLOOR:
0
•
BEDROOMS:
2
•
BATHROOMS:
2
INDOOR SURFACE:
80 m²
•
OUTDOOR SURFACE:
37 m²
•
€ 346.000
N-206/F4.485
Apartment
FLOOR:
0
•
BEDROOMS:
2
•
BATHROOMS:
1
INDOOR SURFACE:
79 m²
•
OUTDOOR SURFACE:
45 m²
•
€ 342.000
N-206/F4.486
Apartment
FLOOR:
1
•
BEDROOMS:
2
•
BATHROOMS:
2
INDOOR SURFACE:
91 m²
•
OUTDOOR SURFACE:
31 m²
•
€ 339.000
N-206/F4.487
Apartment
FLOOR:
1
•
BEDROOMS:
2
•
BATHROOMS:
1
INDOOR SURFACE:
76 m²
•
OUTDOOR SURFACE:
19 m²
•
€ 313.000
N-206/F4.488
Apartment
FLOOR:
1
•
BEDROOMS:
2
•
BATHROOMS:
2
INDOOR SURFACE:
80 m²
•
OUTDOOR SURFACE:
21 m²
•
€ 328.000
N-206/F4.489
Apartment
FLOOR:
1
•
BEDROOMS:
3
•
BATHROOMS:
2
INDOOR SURFACE:
102 m²
•
OUTDOOR SURFACE:
29 m²
•
€ 383.000
N-206/F4.492
Apartment
FLOOR:
1
•
BEDROOMS:
2
•
BATHROOMS:
1
INDOOR SURFACE:
79 m²
•
OUTDOOR SURFACE:
19 m²
•
€ 318.000
N-206/F4.493
Apartment
FLOOR:
2
•
BEDROOMS:
2
•
BATHROOMS:
2
INDOOR SURFACE:
91 m²
•
OUTDOOR SURFACE:
31 m²
•
€ 364.000
N-206/F4.495
Apartment
FLOOR:
2
•
BEDROOMS:
2
•
BATHROOMS:
2
INDOOR SURFACE:
80 m²
•
OUTDOOR SURFACE:
19 m²
•
€ 349.000
N-206/F4.496
Apartment
FLOOR:
2
•
BEDROOMS:
3
•
BATHROOMS:
2
INDOOR SURFACE:
102 m²
•
OUTDOOR SURFACE:
29 m²
•
€ 413.000
N-206/F4.498
Apartment
FLOOR:
2
•
BEDROOMS:
2
•
BATHROOMS:
2
INDOOR SURFACE:
80 m²
•
OUTDOOR SURFACE:
19 m²
•
Sold
N-206/F4.499
Apartment
FLOOR:
2
•
BEDROOMS:
2
•
BATHROOMS:
1
INDOOR SURFACE:
79 m²
•
OUTDOOR SURFACE:
19 m²
•
€ 332.000
N-206/F4.500
Apartment
FLOOR:
3
•
BEDROOMS:
2
•
BATHROOMS:
2
INDOOR SURFACE:
91 m²
•
OUTDOOR SURFACE:
107 m²
•
€ 421.000
N-206/F4.504
Apartment
FLOOR:
3
•
BEDROOMS:
3
•
BATHROOMS:
2
INDOOR SURFACE:
100 m²
•
OUTDOOR SURFACE:
92 m²
•
Sold
N-206/F4.506
Apartment
FLOOR:
3
•
BEDROOMS:
2
•
BATHROOMS:
1
INDOOR SURFACE:
79 m²
•
OUTDOOR SURFACE:
85 m²
•
€ 379.000
FEATURES
VIEW
•

Sea view

•

Pool view

•

Garden view

•

Panoramic view
ENTERTAINMENT
•

Communal pool

•

Children's pool

•

Heated pool

•

Communal jucuzzi

•

Communal sauna

•

Communal gym

•

Playground
COMFORT
•

Shower

•

Elevator

•

Private indoor parking

•

Bycicle storage

•

Storage room
EXTERIOR
•

Terrace

•

Garden

•

Balcony

•

Roof terrace

•

Communal garden

•

Covered terrace
HEATING / COOLING
•

Ducted airconditioning

•

Electric boiler
FLOORPLAN