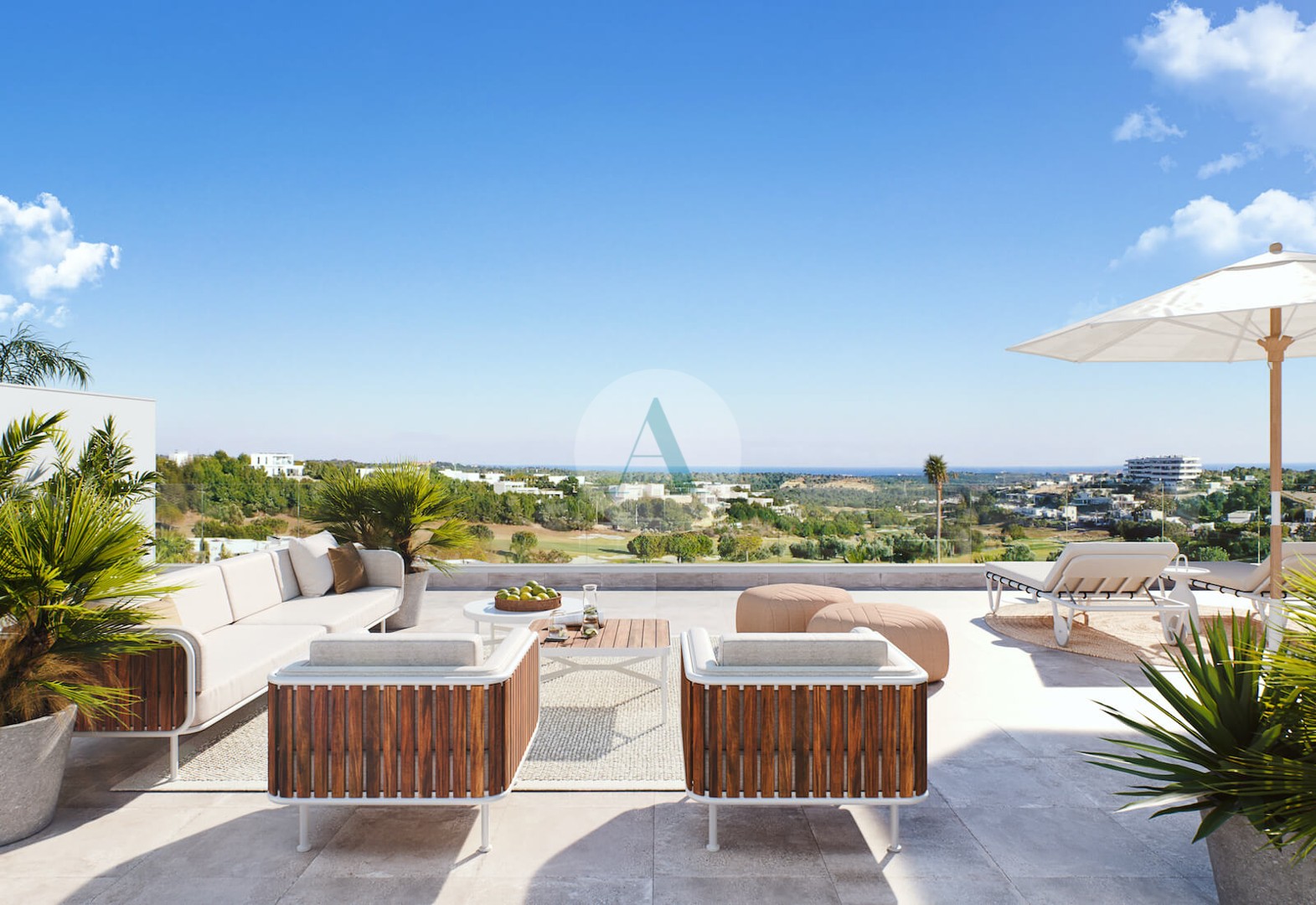 REF: N-244
Apartments with dreamy views at Las Colinas
Orihuela-Costa, Costa Blanca South
From € 475.000
Embrace a world of unparalleled luxury and breathtaking vistas with these modern new build apartments at Las Colinas Golf & Country Club.
Nestled within the pristine environs of this exclusive urbanisation on the Mediterranean coast, these sun-kissed apartments come with inviting terraces that offer idyllic panoramas.
The project welcomes you to a world of comfort and privilege. Where every detail has been carefully designed to ensure a seamless connection with the coveted Mediterranean climate. As part of the Las Colinas Golf & Country Club, this community fulfils the dreams of those who wish to reside in harmony with nature.
Each apartment is thoughtfully equipped with an array of features that cater to modern living;
Motorized aluminium blinds in the bedrooms.
Comprehensive conduit and heat pump installation.
Electrical underfloor heating in the bathrooms.
A fully fitted kitchen with top-tier appliances.
A cutting-edge Smart Home System.
Las Colinas Golf & Country Club offers an exceptional climate, an unspoiled natural environment, and an array of services to cater to the needs of its residents and visitors, all within the backdrop of a healthy Mediterranean lifestyle.
Within this vibrant community, you'll find a wide range of sports, leisure activities, accommodations, and dining options, including:
The Las Colinas Sports & Health Club, featuring a gym, a splendid swimming pool and a wellness area.
A Racquet Club for tennis, paddle tennis, football and basketball enthusiasts.
Scenic trails winding through Mediterranean forests, perfect for hiking or mountain biking.
Three exquisite restaurants offering diverse culinary experiences, from Japanese-Mexican fusion to traditional Italian cuisine and international dishes with a Mediterranean touch.
Moreover, just a short drive from the urbanisation you can soak in the sun, sea and the coastal beauty of Orihuela Costa.
Contact Adaleta to schedule a visit.
DISTANCE COM. CENTER
5 km
From € 475.000
AVAILABILITY
N-244/01
Apartment
FLOOR:
0
•
BEDROOMS:
3
•
BATHROOMS:
2
INDOOR SURFACE:
122 m²
•
OUTDOOR SURFACE:
97 m²
•
€ 495.000
N-244/016
Apartment
FLOOR:
0
•
BEDROOMS:
3
•
BATHROOMS:
2
INDOOR SURFACE:
122 m²
•
OUTDOOR SURFACE:
95 m²
•
€ 545.000
N-244/017
Apartment
FLOOR:
0
•
BEDROOMS:
3
•
BATHROOMS:
2
INDOOR SURFACE:
122 m²
•
OUTDOOR SURFACE:
95 m²
•
€ 495.000
N-244/02
Apartment
FLOOR:
0
•
BEDROOMS:
3
•
BATHROOMS:
2
INDOOR SURFACE:
124 m²
•
OUTDOOR SURFACE:
89 m²
•
€ 585.000
N-244/08
Apartment
FLOOR:
0
•
BEDROOMS:
3
•
BATHROOMS:
2
INDOOR SURFACE:
122 m²
•
OUTDOOR SURFACE:
95 m²
•
€ 495.000
N-244/09
Apartment
FLOOR:
0
•
BEDROOMS:
3
•
BATHROOMS:
2
INDOOR SURFACE:
122 m²
•
OUTDOOR SURFACE:
97 m²
•
€ 495.000
N-244/104
Apartment
FLOOR:
1
•
BEDROOMS:
3
•
BATHROOMS:
2
INDOOR SURFACE:
122 m²
•
OUTDOOR SURFACE:
31 m²
•
€ 495.000
N-244/105
Apartment
FLOOR:
1
•
BEDROOMS:
3
•
BATHROOMS:
2
INDOOR SURFACE:
130 m²
•
OUTDOOR SURFACE:
31 m²
•
€ 535.000
N-244/110
Apartment
FLOOR:
1
•
BEDROOMS:
3
•
BATHROOMS:
2
INDOOR SURFACE:
122 m²
•
OUTDOOR SURFACE:
31 m²
•
€ 475.000
N-244/111
Apartment
FLOOR:
1
•
BEDROOMS:
3
•
BATHROOMS:
2
INDOOR SURFACE:
122 m²
•
OUTDOOR SURFACE:
31 m²
•
€ 475.000
N-244/118
Apartment
FLOOR:
1
•
BEDROOMS:
3
•
BATHROOMS:
2
INDOOR SURFACE:
125 m²
•
OUTDOOR SURFACE:
32 m²
•
€ 525.000
N-244/119
Apartment
FLOOR:
1
•
BEDROOMS:
3
•
BATHROOMS:
2
INDOOR SURFACE:
122 m²
•
OUTDOOR SURFACE:
31 m²
•
€ 475.000
N-244/315
Apartment
FLOOR:
3
•
BEDROOMS:
3
•
BATHROOMS:
2
INDOOR SURFACE:
169 m²
•
OUTDOOR SURFACE:
238 m²
•
€ 985.000
N-244/323
Apartment
FLOOR:
3
•
BEDROOMS:
3
•
BATHROOMS:
2
INDOOR SURFACE:
169 m²
•
OUTDOOR SURFACE:
238 m²
•
€ 995.000
FEATURES
VIEW
•

Distant sea view

•

Golf view

•

Pool view

•

Garden view

•

Panoramic view

•

Mountain view

•

Nature view
COMFORT
•

Shower

•

Elevator

•

Private parking

•

Private indoor parking

•

Storage room

•

Home automation

•

Electric shutters
EXTERIOR
•

Terrace

•

Garden

•

Balcony

•

Roof terrace

•

Landscaped garden

•

Communal garden

•

Covered terrace
WHITE GOODS
•

Oven

•

Microwave

•

Dishwasher

•

Washing machine

•

Extractor

•

Induction hob

•

Refrigerator

•

Freezer
HEATING / COOLING
•

Airconditioning

•

Ducted airconditioning

•

Electric heating

•

Floor heating (bathroom)

•

Electric boiler
SECURITY
•

Gated community

•

24/7 security
FLOORPLAN