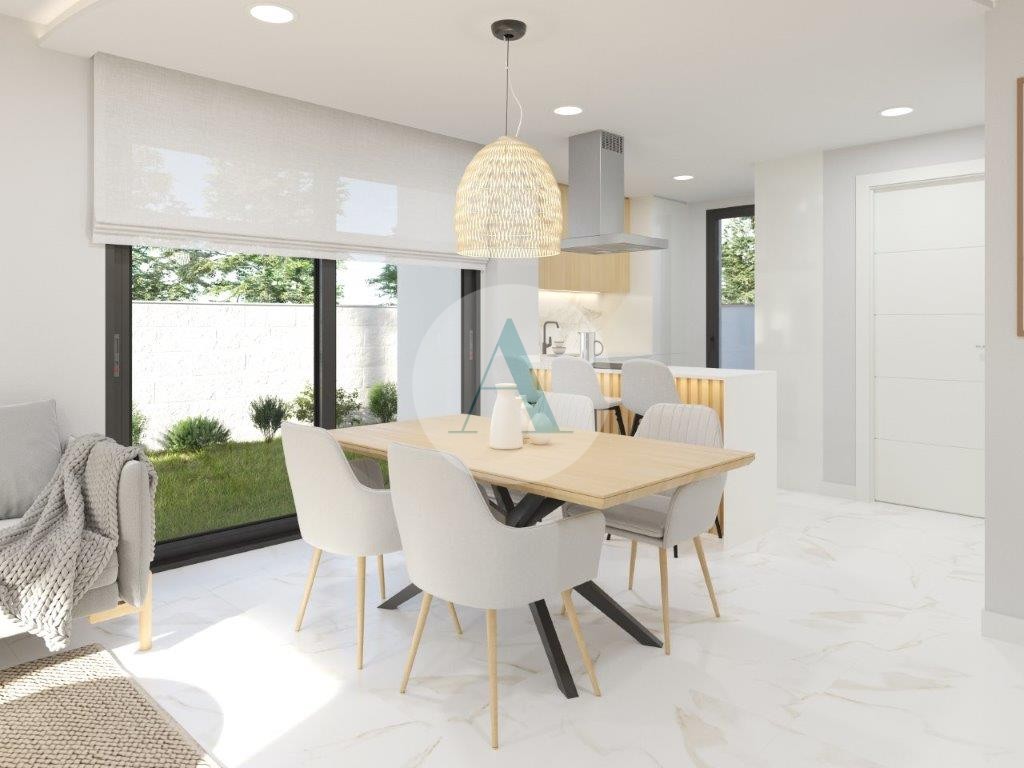 REF: N-246
15 semi-detached houses near charming Los Montesinos
Los Montesinos, Costa Blanca South
From € 280.000
Welcome to this modern development of houses in La Herrada. Just a stone's throw away from the charming town center of Los Montesinos. Discover the 15 semi-detached houses, each offering 3 bedrooms and 3 bathrooms for the perfect blend of contemporary style and comfortable living.

Step into your private haven with a spacious outdoor area featuring a parking, a delightful garden, a relaxing terrace, and your very own pool (4x2,8m) for those sunny days. The ground floor invites you into a bright living room seamlessly connected to an open-plan kitchen, a bedroom, and a bathroom- the ideal space for daily living and entertaining.

On the first floor you'll find two more bedrooms, each with its own well-appointed bathroom. One level higher, a sunny solarium awaits. Providing a perfect spot to soak in the sun.

These homes aren't just beautiful, they're equipped with modern conveniences. Electric blinds provide privacy and light control, while the gleamer system ensures security. The pre-installation of ducted air-conditioning sets the stage for a comfortable and climate controlled environment enhancing your overall living experience.

Beyond the development, Los Montesinos offers a charming backdrop with a warm community atmosphere, traditional Spanish charm and a variety of amenities. From local markets to cozy cafes and restaurants. Los Montesinos provides a welcoming environment where you can immerse yourself in the authentic Spanish lifestyle.

The strategic location near Los Montesinos town center ensures easy access to essential services. Making these semi-detached houses an ideal choice for those seeking tranquility and convenience. Don't miss the chance to embrace a lifestyle of comfort, style and community in this stunning La Herrada development.
DISTANCE COM. CENTER
0,5 km
From € 280.000
AVAILABILITY
N-246/01
House
FLOOR:
2
•
BEDROOMS:
3
•
BATHROOMS:
3
INDOOR SURFACE:
99 m²
•
OUTDOOR SURFACE:
100 m²
•
PLOT:
153 m²
Reserved
N-246/02
House
FLOOR:
2
•
BEDROOMS:
3
•
BATHROOMS:
3
INDOOR SURFACE:
99 m²
•
OUTDOOR SURFACE:
100 m²
•
PLOT:
184 m²
Sold
N-246/03
House
FLOOR:
2
•
BEDROOMS:
3
•
BATHROOMS:
3
INDOOR SURFACE:
99 m²
•
OUTDOOR SURFACE:
100 m²
•
PLOT:
148 m²
Reserved
N-246/04
House
FLOOR:
2
•
BEDROOMS:
3
•
BATHROOMS:
3
INDOOR SURFACE:
99 m²
•
OUTDOOR SURFACE:
100 m²
•
PLOT:
144 m²
Sold
N-246/05
House
FLOOR:
2
•
BEDROOMS:
3
•
BATHROOMS:
3
INDOOR SURFACE:
99 m²
•
OUTDOOR SURFACE:
100 m²
•
PLOT:
140 m²
€ 292.000
N-246/06
House
FLOOR:
2
•
BEDROOMS:
3
•
BATHROOMS:
3
INDOOR SURFACE:
99 m²
•
OUTDOOR SURFACE:
100 m²
•
PLOT:
144 m²
€ 280.000
N-246/07
House
FLOOR:
2
•
BEDROOMS:
3
•
BATHROOMS:
3
INDOOR SURFACE:
99 m²
•
OUTDOOR SURFACE:
100 m²
•
PLOT:
144 m²
€ 295.000
N-246/08
House
FLOOR:
2
•
BEDROOMS:
3
•
BATHROOMS:
3
INDOOR SURFACE:
99 m²
•
OUTDOOR SURFACE:
100 m²
•
PLOT:
140 m²
€ 296.000
N-246/09
House
FLOOR:
2
•
BEDROOMS:
3
•
BATHROOMS:
3
INDOOR SURFACE:
99 m²
•
OUTDOOR SURFACE:
100 m²
•
PLOT:
140 m²
€ 305.000
N-246/10
House
FLOOR:
2
•
BEDROOMS:
3
•
BATHROOMS:
3
INDOOR SURFACE:
99 m²
•
OUTDOOR SURFACE:
100 m²
•
PLOT:
144 m²
€ 293.000
N-246/11
House
FLOOR:
2
•
BEDROOMS:
3
•
BATHROOMS:
3
INDOOR SURFACE:
99 m²
•
OUTDOOR SURFACE:
100 m²
•
PLOT:
144 m²
€ 305.000
N-246/13
House
FLOOR:
2
•
BEDROOMS:
3
•
BATHROOMS:
3
INDOOR SURFACE:
99 m²
•
OUTDOOR SURFACE:
100 m²
•
PLOT:
143 m²
€ 308.000
N-246/14
House
FLOOR:
2
•
BEDROOMS:
3
•
BATHROOMS:
3
INDOOR SURFACE:
99 m²
•
OUTDOOR SURFACE:
100 m²
•
PLOT:
149 m²
€ 296.000
FEATURES
COMFORT
•

Shower

•

Private parking

•

Electric shutters
EXTERIOR
•

Terrace

•

Garden

•

Balcony

•

Roof terrace

•

Covered terrace
HEATING / COOLING
•

Ducted airconditioning

•

Electric boiler
FLOORPLAN