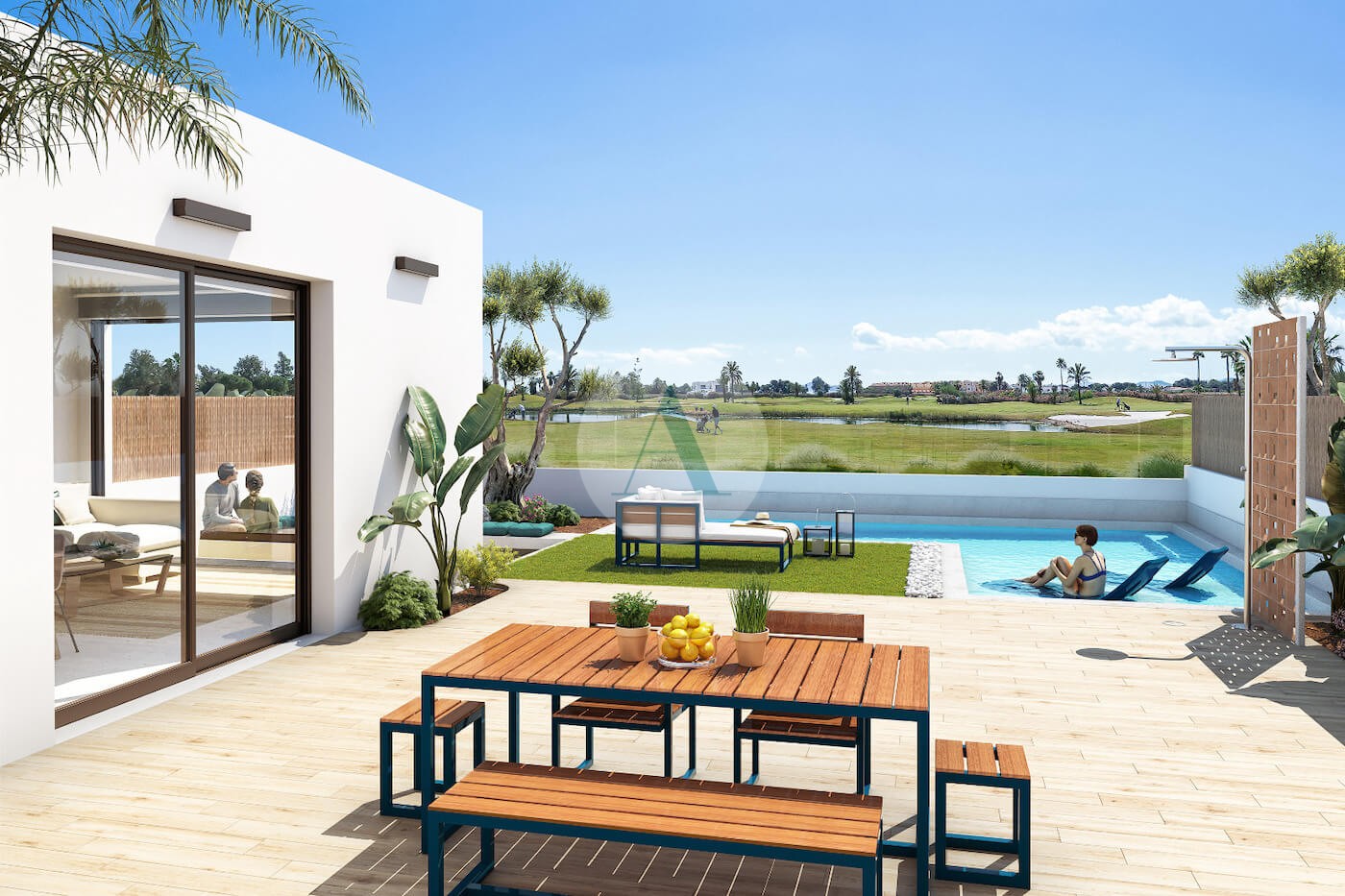 REF: N-215
First-line Mediterranean-style golf villas at walking distance of the Mar Menor
Los Alcazares, Costa Calida
From € 399.000
We are delighted to present to you this beautiful new project in La Serena Golf, Los Alcazares.
This is a small-scale new development with new build apartments and new build villas.
These new build villas feature:
Spacious plots between 290 - 400m2
A built area of 108m2
3 bedrooms and 2 bathrooms
Private parking space
Private swimming pool with pre-installation for heat pump
Sunny orientation
The villas are built on 1 level and equipped with pre-installation for air conditioning. A roof terrace or basement are also possible (optional).
The outdoor space features a terrace, garden, L-shaped pool with shallow area for sunbathing, and a cosy inviting seating area with lots of privacy.
The location is fantastic, on the first line with the popular La Serena golf course, nearby to the centre of Los Alcazares and the Mar Menor. From the living room and garden you can enjoy beautiful views to the golf course.
Furthermore, there is an excellent connection between this development and, among others, "Zenia Boulevard" or "Espacio Mediterraneo" for those who want a day of shopping. Cartagena and Murcia are also a short distance away for those who want to soak up some culture.
Completion of these villas with golf views is scheduled for 2025.
Also, this is also one of the first projects to be offered in this location. Adaleta tips this zone as the new hotspot on the Costa Calida, where many more projects will follow.
DISTANCE COM. CENTER
2 km
From € 399.000
AVAILABILITY
N-215/01
House
FLOOR:
1
•
BEDROOMS:
3
•
BATHROOMS:
2
INDOOR SURFACE:
108 m²
•
PLOT:
353 m²
€ 459.000
N-215/02
House
FLOOR:
1
•
BEDROOMS:
3
•
BATHROOMS:
2
INDOOR SURFACE:
108 m²
•
PLOT:
291 m²
Sold
N-215/03
House
FLOOR:
1
•
BEDROOMS:
3
•
BATHROOMS:
2
INDOOR SURFACE:
108 m²
•
PLOT:
291 m²
Sold
N-215/04
House
FLOOR:
1
•
BEDROOMS:
3
•
BATHROOMS:
2
INDOOR SURFACE:
108 m²
•
PLOT:
291 m²
€ 409.000
N-215/05
House
FLOOR:
1
•
BEDROOMS:
3
•
BATHROOMS:
2
INDOOR SURFACE:
108 m²
•
PLOT:
291 m²
€ 399.000
N-215/06
House
FLOOR:
1
•
BEDROOMS:
3
•
BATHROOMS:
2
INDOOR SURFACE:
108 m²
•
PLOT:
292 m²
€ 399.000
N-215/07
House
FLOOR:
1
•
BEDROOMS:
3
•
BATHROOMS:
2
INDOOR SURFACE:
108 m²
•
PLOT:
375 m²
Sold
N-215/08
House
FLOOR:
1
•
BEDROOMS:
3
•
BATHROOMS:
2
INDOOR SURFACE:
108 m²
•
PLOT:
291 m²
€ 409.000
N-215/09
House
FLOOR:
1
•
BEDROOMS:
3
•
BATHROOMS:
2
INDOOR SURFACE:
108 m²
•
PLOT:
398 m²
€ 445.000
FEATURES
VIEW
•

First line golf view

•

Golf view

•

Panoramic view
COMFORT
•

Shower

•

Private parking

•

Electric shutters
EXTERIOR
•

Terrace

•

Garden

•

Landscaped garden
FLOORPLAN