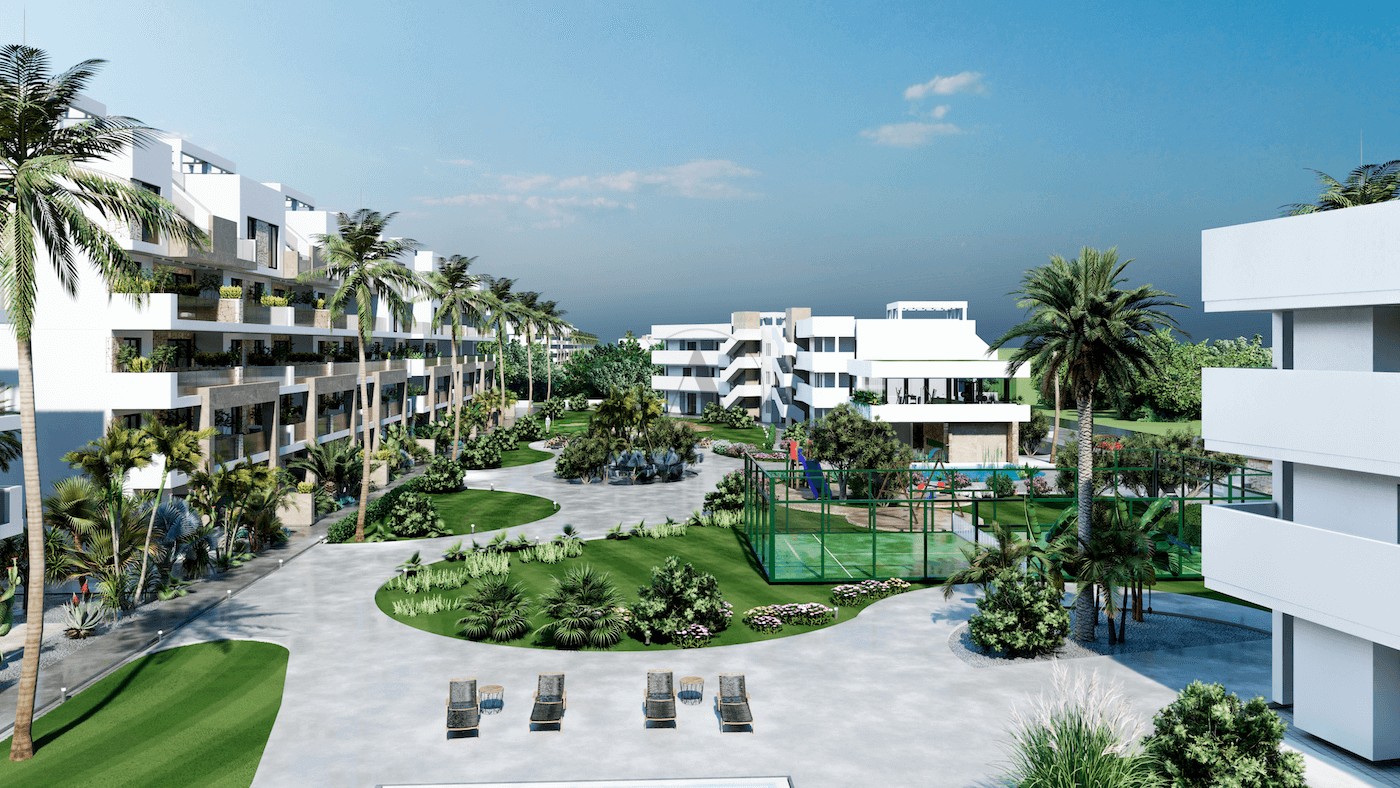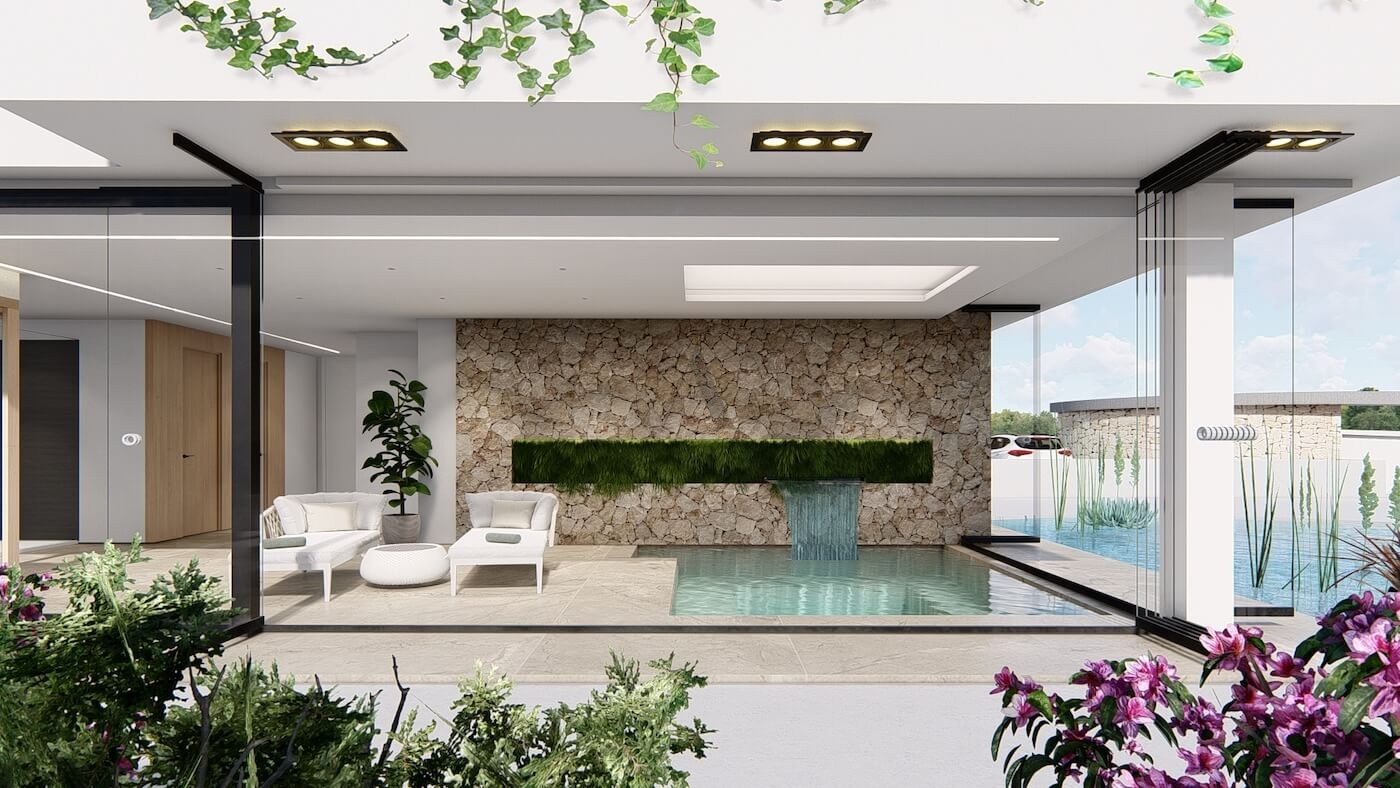 REF: N-189
Modern apartments with 2 or 3 bedrooms in beautiful urbanisation with many facilities
Guardamar Del Segura, Costa Blanca South
From € 249.000
Welcome to this new fantastic project in Guardamar del Segura. A new development of 135 modern apartments surrounded by green areas, and at short distance from the lovely beaches.
The project will be constructed in several phases, with the first phase being an apartment block of 5 stories. There, you can opt for:
Ground floor apartment with terrace and garden
First, Second or third floor apartment with balcony
Fourth floor with balcony and private roof terrace
Most properties have 2 bedrooms and 2 bathrooms, however a few of them offer 3 bedrooms.
These classy apartments are equipped with:
Open plan kitchen including all electrical appliances
Screens and bathroom furnitures included
Electric blinds on the windows
Basic lighting pack
Full air conditioning installation via ducts
Private parking space in the basement. In addition there is an individual storage room for each property
Apartments with solarium will have an outdoor shower, kitchen and reinforced area with pre-installation for a jacuzzi
Lift access from basement to your floor
This secured and very inviting residence will become a true holiday destination for you to enjoy! There will be 2 communal swimming pools, a paddle tennis court, two petanque courts, children's play area and outdoor ping pong.
Furthermore, this new project will offer it's residents to relax in the
SPA area
, with indoor swimming pool, jacuzzi, sauna and GYM.
First completions are planned for summer 2024.
DISTANCE COM. CENTER
0,3 km
From € 249.000
AVAILABILITY
N-189/002
Apartment
FLOOR:
1
•
BEDROOMS:
2
•
BATHROOMS:
2
INDOOR SURFACE:
88 m²
•
OUTDOOR SURFACE:
21 m²
•
€ 274.000
N-189/003
Apartment
FLOOR:
2
•
BEDROOMS:
2
•
BATHROOMS:
2
INDOOR SURFACE:
88 m²
•
OUTDOOR SURFACE:
21 m²
•
€ 289.000
N-189/004
Apartment
FLOOR:
3
•
BEDROOMS:
2
•
BATHROOMS:
2
INDOOR SURFACE:
89 m²
•
OUTDOOR SURFACE:
21 m²
•
€ 304.000
N-189/006
Apartment
FLOOR:
0
•
BEDROOMS:
2
•
BATHROOMS:
2
INDOOR SURFACE:
78 m²
•
OUTDOOR SURFACE:
54 m²
•
Sold
N-189/008
Apartment
FLOOR:
2
•
BEDROOMS:
2
•
BATHROOMS:
2
INDOOR SURFACE:
78 m²
•
OUTDOOR SURFACE:
19 m²
•
€ 267.000
N-189/009
Apartment
FLOOR:
3
•
BEDROOMS:
2
•
BATHROOMS:
2
INDOOR SURFACE:
78 m²
•
OUTDOOR SURFACE:
20 m²
•
€ 282.000
N-189/011
Apartment
FLOOR:
0
•
BEDROOMS:
2
•
BATHROOMS:
2
INDOOR SURFACE:
78 m²
•
OUTDOOR SURFACE:
54 m²
•
Sold
N-189/012
Apartment
FLOOR:
1
•
BEDROOMS:
2
•
BATHROOMS:
2
INDOOR SURFACE:
78 m²
•
OUTDOOR SURFACE:
20 m²
•
Reserved
N-189/014
Apartment
FLOOR:
3
•
BEDROOMS:
2
•
BATHROOMS:
2
INDOOR SURFACE:
78 m²
•
OUTDOOR SURFACE:
20 m²
•
Reserved
N-189/015
Apartment
FLOOR:
4
•
BEDROOMS:
2
•
BATHROOMS:
2
INDOOR SURFACE:
78 m²
•
OUTDOOR SURFACE:
85 m²
•
Sold
N-189/017
Apartment
FLOOR:
1
•
BEDROOMS:
2
•
BATHROOMS:
2
INDOOR SURFACE:
78 m²
•
OUTDOOR SURFACE:
20 m²
•
Reserved
N-189/018
Apartment
FLOOR:
2
•
BEDROOMS:
2
•
BATHROOMS:
2
INDOOR SURFACE:
78 m²
•
OUTDOOR SURFACE:
19 m²
•
€ 267.000
N-189/019
Apartment
FLOOR:
3
•
BEDROOMS:
2
•
BATHROOMS:
2
INDOOR SURFACE:
78 m²
•
OUTDOOR SURFACE:
20 m²
•
Sold
N-189/021
Apartment
FLOOR:
0
•
BEDROOMS:
3
•
BATHROOMS:
2
INDOOR SURFACE:
96 m²
•
OUTDOOR SURFACE:
73 m²
•
Reserved
N-189/022
Apartment
FLOOR:
1
•
BEDROOMS:
3
•
BATHROOMS:
2
INDOOR SURFACE:
96 m²
•
OUTDOOR SURFACE:
20 m²
•
€ 283.000
N-189/023
Apartment
FLOOR:
2
•
BEDROOMS:
3
•
BATHROOMS:
2
INDOOR SURFACE:
96 m²
•
OUTDOOR SURFACE:
21 m²
•
Sold
N-189/024
Apartment
FLOOR:
3
•
BEDROOMS:
3
•
BATHROOMS:
2
INDOOR SURFACE:
96 m²
•
OUTDOOR SURFACE:
20 m²
•
Sold
N-189/025
Apartment
FLOOR:
4
•
BEDROOMS:
3
•
BATHROOMS:
2
INDOOR SURFACE:
95 m²
•
OUTDOOR SURFACE:
104 m²
•
Sold
N-189/026
Apartment
FLOOR:
0
•
BEDROOMS:
3
•
BATHROOMS:
2
INDOOR SURFACE:
96 m²
•
OUTDOOR SURFACE:
68 m²
•
Sold
N-189/028
Apartment
FLOOR:
2
•
BEDROOMS:
3
•
BATHROOMS:
2
INDOOR SURFACE:
96 m²
•
OUTDOOR SURFACE:
24 m²
•
Reserved
N-189/030
Apartment
FLOOR:
4
•
BEDROOMS:
3
•
BATHROOMS:
2
INDOOR SURFACE:
95 m²
•
OUTDOOR SURFACE:
102 m²
•
Sold
N-189/031
Apartment
FLOOR:
0
•
BEDROOMS:
2
•
BATHROOMS:
2
INDOOR SURFACE:
80 m²
•
OUTDOOR SURFACE:
150 m²
•
€ 280.000
N-189/032
Apartment
FLOOR:
1
•
BEDROOMS:
2
•
BATHROOMS:
2
INDOOR SURFACE:
80 m²
•
OUTDOOR SURFACE:
20 m²
•
€ 265.000
N-189/033
Apartment
FLOOR:
2
•
BEDROOMS:
2
•
BATHROOMS:
2
INDOOR SURFACE:
80 m²
•
OUTDOOR SURFACE:
19 m²
•
€ 279.000
N-189/035
Apartment
FLOOR:
4
•
BEDROOMS:
2
•
BATHROOMS:
2
INDOOR SURFACE:
80 m²
•
OUTDOOR SURFACE:
86 m²
•
Sold
FEATURES
VIEW
•

Pool view

•

Panoramic view

•

Nature view
ENTERTAINMENT
•

Sauna

•

Communal pool

•

Children's pool

•

Indoor pool

•

Padel court

•

Mini golf

•

Petanque court

•

Playground

•

Outdoor kitchen
COMFORT
•

Shower

•

Elevator

•

Private parking

•

Private indoor parking

•

Storage room

•

Electric shutters
EXTERIOR
•

Terrace

•

Garden

•

Balcony

•

Roof terrace

•

Landscaped garden

•

Communal garden

•

Covered terrace
WHITE GOODS
•

Oven

•

Microwave

•

Washing machine

•

Extractor

•

Ceramic hob

•

Refrigerator

•

Freezer
HEATING / COOLING
•

Ducted airconditioning

•

Electric heating

•

Electric boiler
FLOORPLAN