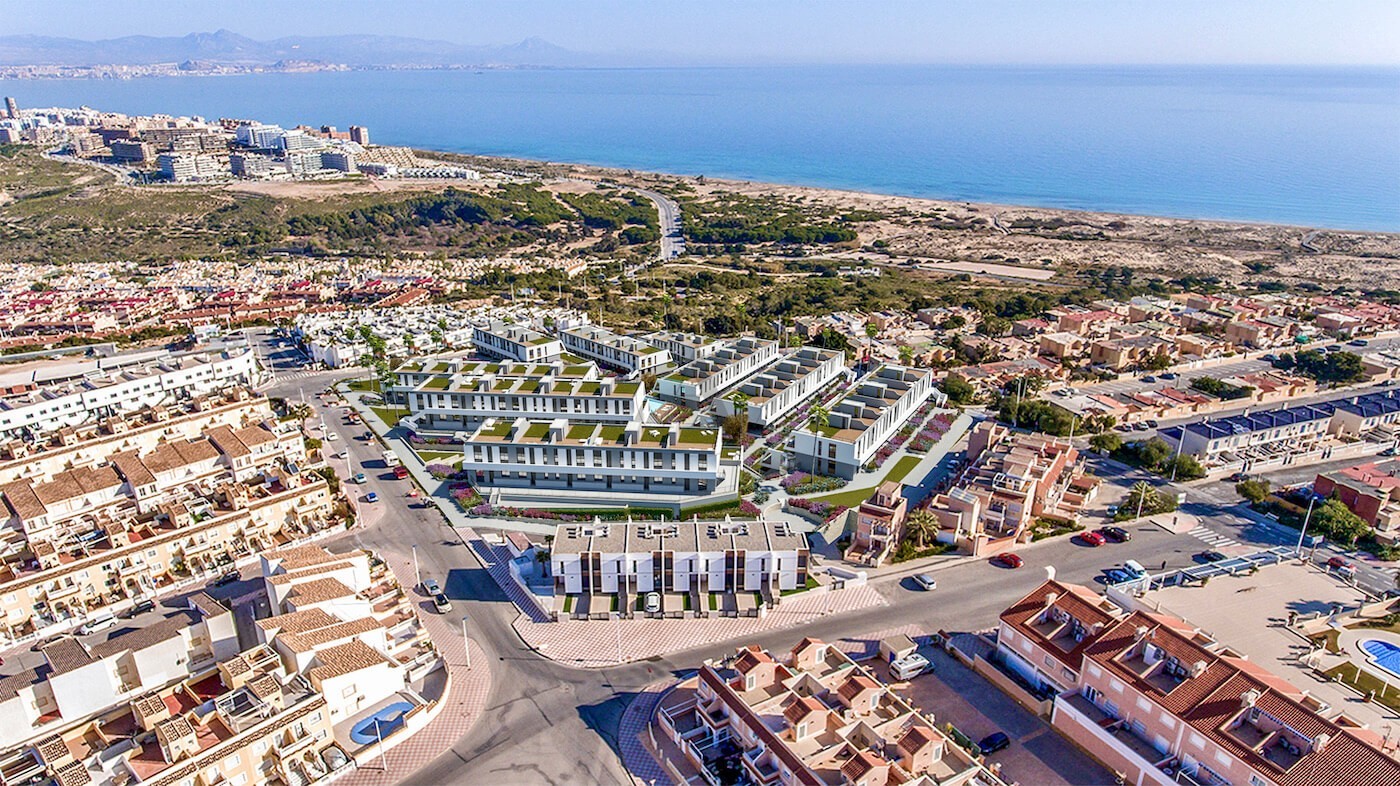 REF: N-100
Almost sold out - Apartments near beach
Gran Alacant, Costa Blanca South
From € 269.000
Are you looking for a unique apartment in a beautiful area near the sea? We would like to introduce you this new build project in Alicante.
With it's prime location, this new build residence has become one of the most popular projects at the Costa Blanca.
You can opt for:
Ground floor apartments with terrace and garden
Middle floors (1 & 2) with large balcony
Apartments on the 3rd floor with balcony and private roof terrace
The apartments are available with 2 or 3 bedrooms, each with 2 bathrooms. All apartments are unique, with different layouts and surfaces. The great location on the hill offers beautiful views to the sea and the surrounding area.
These new build apartments are only 700m away from the beautiful sandy beach. You are also in the proximity of the 'Clot de Galvany' nature reserve, where you can undoubtedly take a relaxing walk among the local fauna and flora.
At just few steps from the residence, you will be welcomed in the local commercial center.
Alicante is a vibrant city where you can soak up the culture and history, have a great night out, do some shopping, etc. And all of this at only 20 minutes from this new build project. These new apartments are only a 10-minute drive from Alicante airport! A great advantage for many!
Sounds interesting? We are happy to let you discover this beautiful project! Contact us for a viewing.
DISTANCE COM. CENTER
12 km
From € 269.000
AVAILABILITY
N-100/0.01
Apartment
FLOOR:
0
•
BEDROOMS:
3
•
BATHROOMS:
2
INDOOR SURFACE:
101 m²
•
OUTDOOR SURFACE:
130 m²
•
€ 355.000
N-100/0.02
Apartment
FLOOR:
0
•
BEDROOMS:
2
•
BATHROOMS:
2
INDOOR SURFACE:
98 m²
•
OUTDOOR SURFACE:
30 m²
•
€ 269.000
N-100/0.04
Apartment
FLOOR:
0
•
BEDROOMS:
3
•
BATHROOMS:
2
INDOOR SURFACE:
101 m²
•
OUTDOOR SURFACE:
64 m²
•
Sold
N-100/0.09
Apartment
FLOOR:
0
•
BEDROOMS:
3
•
BATHROOMS:
2
INDOOR SURFACE:
89 m²
•
OUTDOOR SURFACE:
74 m²
•
€ 400.000
N-100/1.5
Apartment
FLOOR:
1
•
BEDROOMS:
3
•
BATHROOMS:
2
INDOOR SURFACE:
98 m²
•
OUTDOOR SURFACE:
30 m²
•
€ 340.000
N-100/1.7
Apartment
FLOOR:
1
•
BEDROOMS:
2
•
BATHROOMS:
2
INDOOR SURFACE:
78 m²
•
OUTDOOR SURFACE:
23 m²
•
Sold
N-100/1.8
Apartment
FLOOR:
1
•
BEDROOMS:
3
•
BATHROOMS:
2
INDOOR SURFACE:
98 m²
•
OUTDOOR SURFACE:
31 m²
•
€ 325.000
N-100/2.18
Apartment
FLOOR:
2
•
BEDROOMS:
2
•
BATHROOMS:
2
INDOOR SURFACE:
76 m²
•
OUTDOOR SURFACE:
86 m²
•
€ 395.000
N-100/2.19
Apartment
FLOOR:
2
•
BEDROOMS:
2
•
BATHROOMS:
2
INDOOR SURFACE:
76 m²
•
OUTDOOR SURFACE:
86 m²
•
€ 395.000
N-100/9.01
Apartment
FLOOR:
0
•
BEDROOMS:
3
•
BATHROOMS:
2
INDOOR SURFACE:
101 m²
•
OUTDOOR SURFACE:
196 m²
•
€ 355.000
N-100/9.1.5
Apartment
FLOOR:
1
•
BEDROOMS:
3
•
BATHROOMS:
2
INDOOR SURFACE:
98 m²
•
OUTDOOR SURFACE:
31 m²
•
€ 340.000
N-100/9.18
Apartment
FLOOR:
2
•
BEDROOMS:
2
•
BATHROOMS:
2
INDOOR SURFACE:
76 m²
•
OUTDOOR SURFACE:
80 m²
•
€ 385.000
N-100/9.19
Apartment
FLOOR:
2
•
BEDROOMS:
2
•
BATHROOMS:
2
INDOOR SURFACE:
76 m²
•
OUTDOOR SURFACE:
80 m²
•
€ 385.000
FEATURES
VIEW
•

Lateral sea view

•

Sea view

•

Pool view

•

Panoramic view
ENTERTAINMENT
•

Communal pool

•

Children's pool

•

Communal jucuzzi

•

Playground
COMFORT
•

Shower

•

Private indoor parking

•

Storage room
EXTERIOR
•

Terrace

•

Garden

•

Balcony

•

Roof terrace

•

Communal garden
WHITE GOODS
•

Oven

•

Extractor

•

Ceramic hob
HEATING / COOLING
•

Ducted airconditioning

•

Electric heating

•

Electric boiler
FLOORPLAN