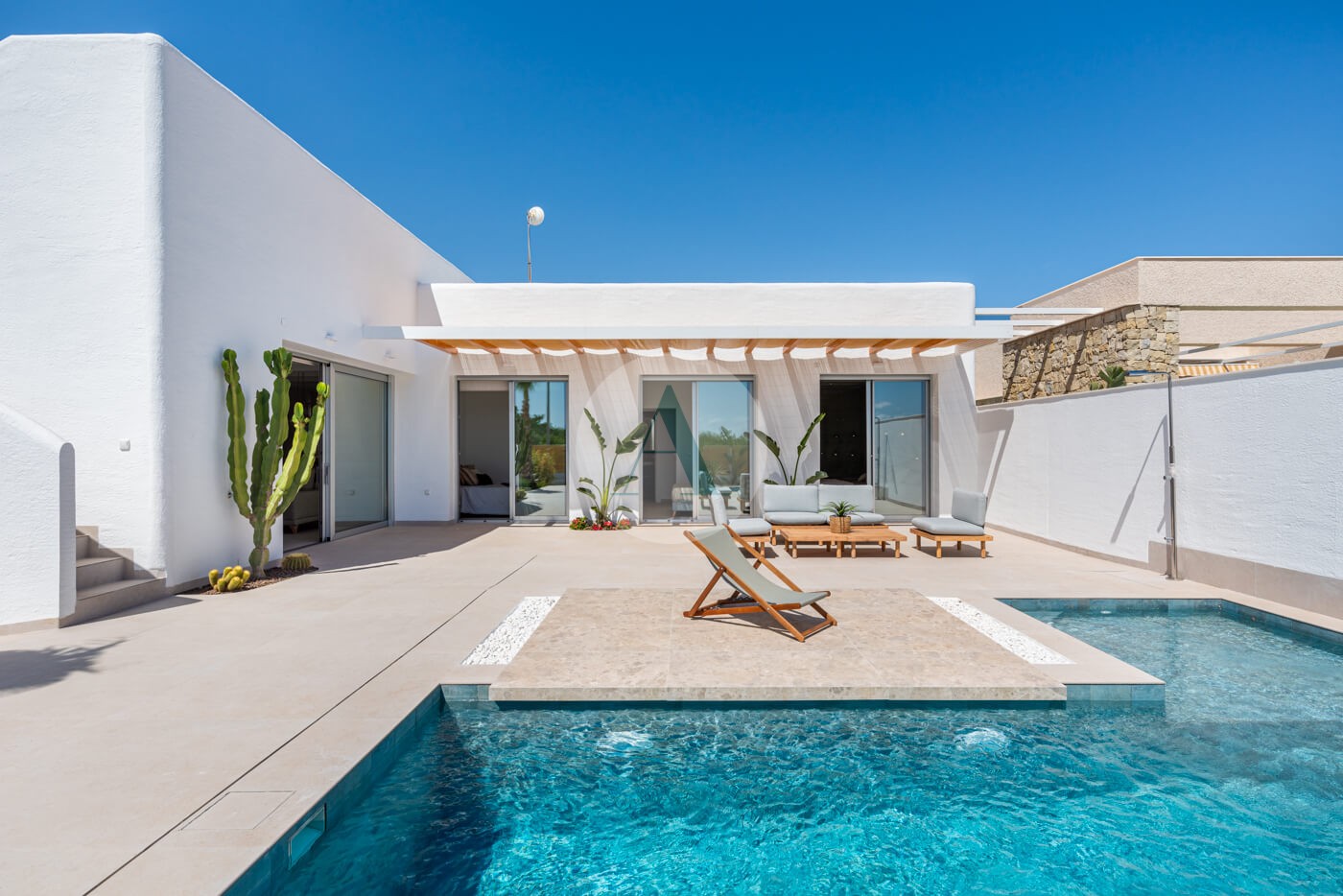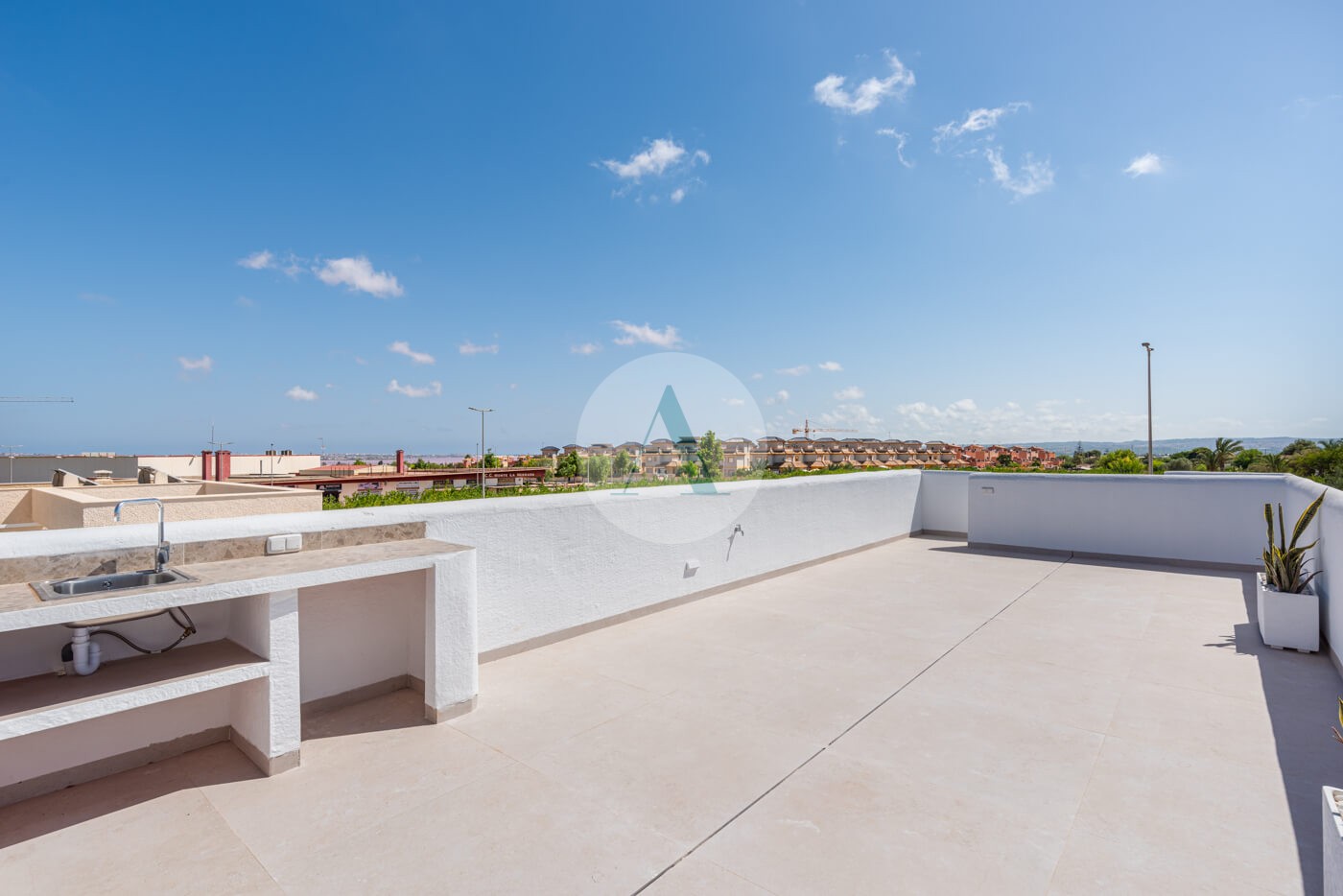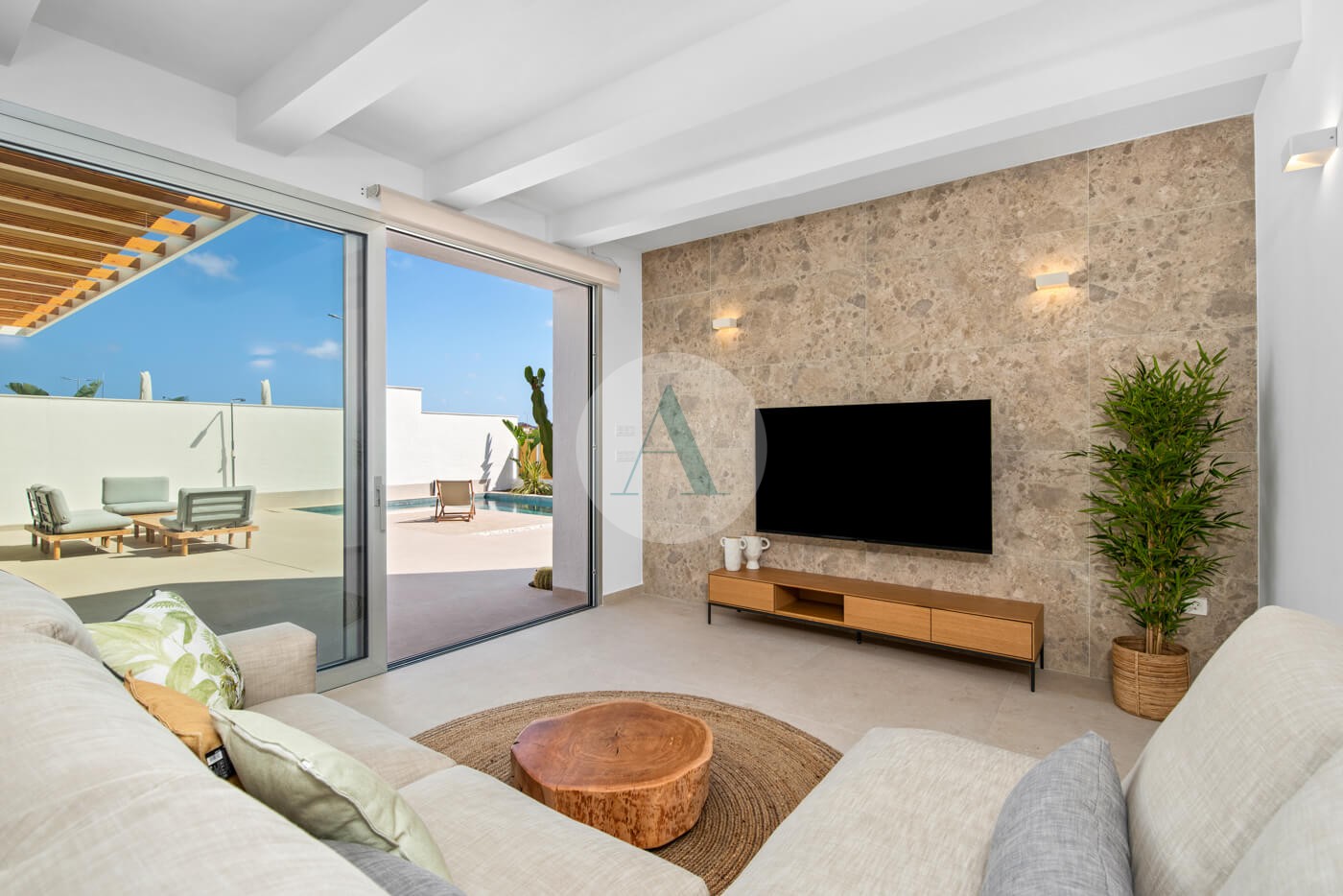 REF: N-228
Modern new build villas in Benijofar
Benijófar, Costa Blanca South
From € 459.900
Excited to present you this lovely project consisting of 8 individual villas. These houses for sale are located in the charming and vibrant town, Benijofar. It's located near commercial centers, restaurants and shops. The perfect location!
Each villa offers 3 bedrooms and 2 bathrooms. The complete layout is set on the ground floor level.
A few features include:
Swimming pool;
Roof terrace;
Electric shutters in bedrooms;
electric hob and extractor fan in the kitchen;
interior and exterior illumination.
The houses range in sizes from 109 to 112m2 with plots from 276 to 300m2.
Villa number 3 has a basement of 109m2 included. This basement is a basic finishing, meaning rough concrete and brick with pre-installation for airconditioning, water and electricity.
Delivery December 2024.
DISTANCE COM. CENTER
0,5 km
From € 459.900
AVAILABILITY
N-228/01
House
FLOOR:
1
•
BEDROOMS:
3
•
BATHROOMS:
2
INDOOR SURFACE:
109 m²
•
OUTDOOR SURFACE:
100 m²
•
PLOT:
277 m²
€ 459.900
N-228/02
House
FLOOR:
1
•
BEDROOMS:
3
•
BATHROOMS:
2
INDOOR SURFACE:
109 m²
•
OUTDOOR SURFACE:
100 m²
•
PLOT:
284 m²
Sold
N-228/03
House
FLOOR:
1
•
BEDROOMS:
3
•
BATHROOMS:
2
INDOOR SURFACE:
211 m²
•
OUTDOOR SURFACE:
100 m²
•
PLOT:
284 m²
Sold
N-228/04
House
FLOOR:
1
•
BEDROOMS:
3
•
BATHROOMS:
2
INDOOR SURFACE:
109 m²
•
OUTDOOR SURFACE:
100 m²
•
PLOT:
300 m²
Sold
N-228/05
House
FLOOR:
1
•
BEDROOMS:
3
•
BATHROOMS:
2
INDOOR SURFACE:
234 m²
•
OUTDOOR SURFACE:
100 m²
•
PLOT:
321 m²
€ 509.900
N-228/06
House
FLOOR:
1
•
BEDROOMS:
3
•
BATHROOMS:
2
INDOOR SURFACE:
225 m²
•
OUTDOOR SURFACE:
100 m²
•
PLOT:
280 m²
€ 489.900
N-228/07
House
FLOOR:
1
•
BEDROOMS:
3
•
BATHROOMS:
2
INDOOR SURFACE:
225 m²
•
OUTDOOR SURFACE:
100 m²
•
PLOT:
279 m²
€ 489.900
N-228/08
House
FLOOR:
1
•
BEDROOMS:
3
•
BATHROOMS:
2
INDOOR SURFACE:
225 m²
•
OUTDOOR SURFACE:
100 m²
•
PLOT:
276 m²
€ 529.900
FEATURES
VIEW
•

Pool view

•

Garden view
COMFORT
•

Shower

•

Suitable for reduced mobility

•

Private parking

•

Shutters

•

Electric shutters
WHITE GOODS
•

Extractor

•

Ceramic hob
HEATING / COOLING
•

Ducted airconditioning

•

Electric boiler
FLOORPLAN