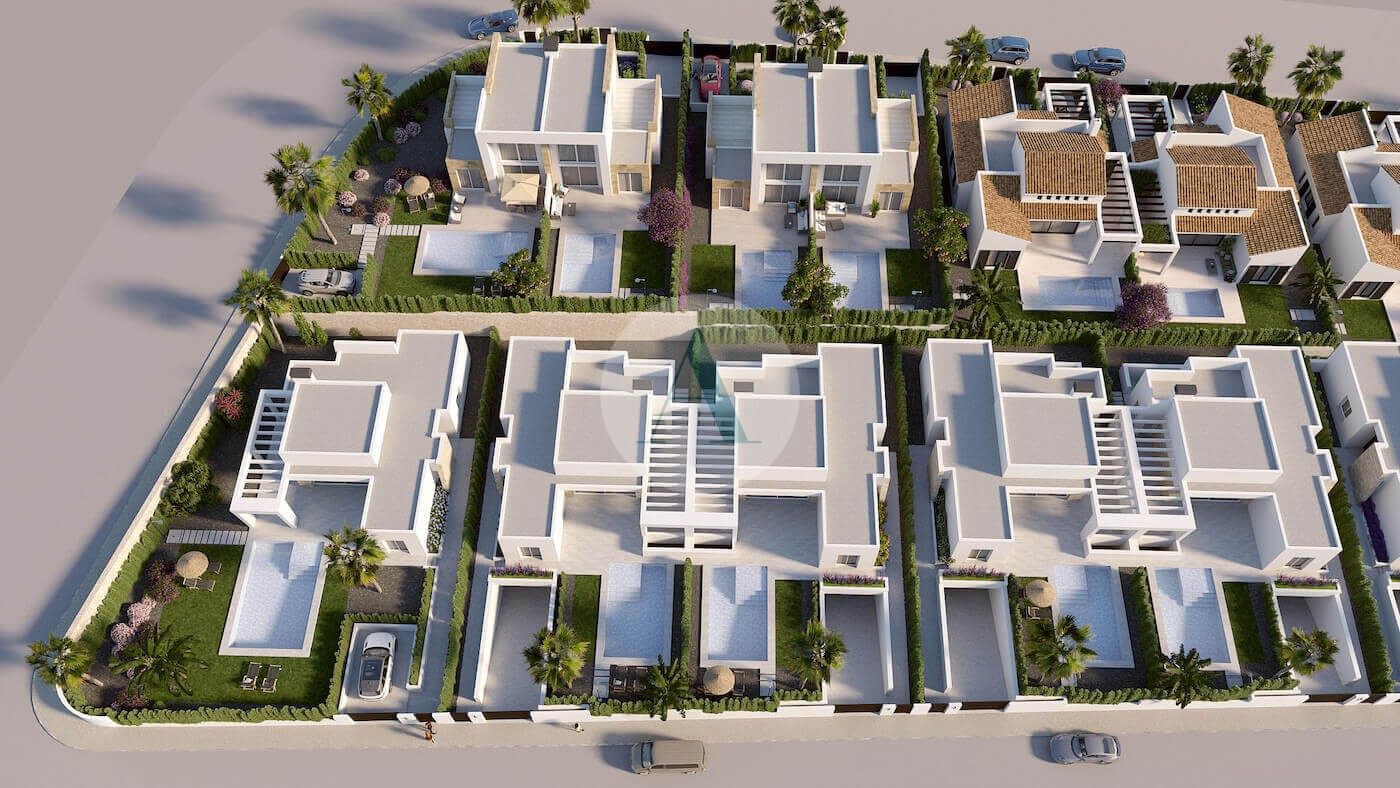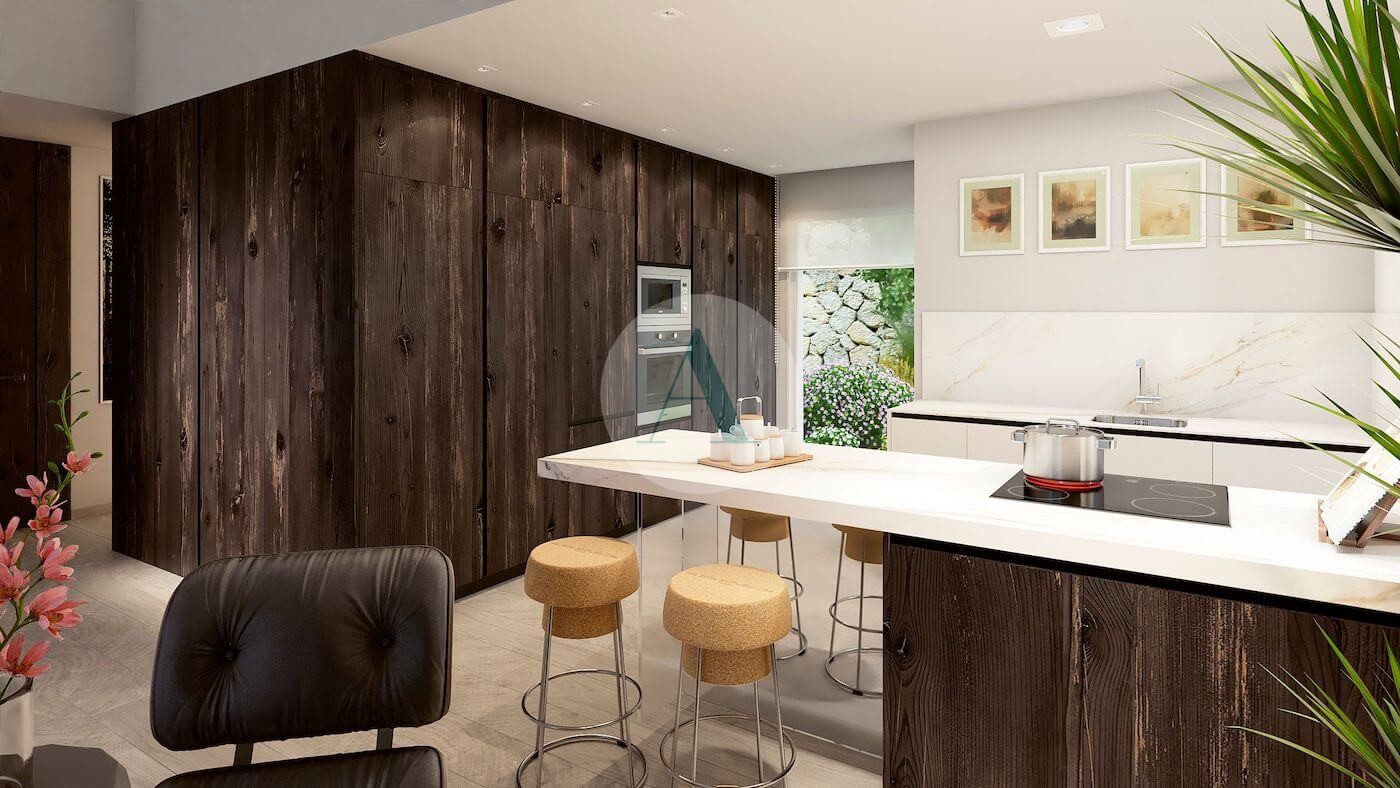 REF: N-234
Stunning detached villas with private pool at the beautiful La Finca
Algorfa, Costa Blanca South
From € 547.000
Discover these detached villas in
La Finca Golf
(Algorfa). These modern, contemporary homes offer plenty of natural light, making them feel spacious and pleasant.
The villas comprise:
Large living room with direct access to the outdoor terrace with pergola.
Open, practical kitchen.
3 bedrooms, of which the master has the ensuite bathroom and also a dressing room.
2 bathrooms with shower.
Landscaped garden with private pool (6x4m or 7x4m).
Villas 14/05-06-09-10-11 also have a basement. With this, the (except 10-11) properties also have a ramp so the car can be placed in the garage.
Plot > 400m2
Some features:
Built-in air conditioning.
Underfloor heating in all bathrooms.
Electric shutters.
Private parking on the plot.
La Finca Golf is a popular urbanisation near the charming town of Algorfa. There are several restaurants, bars and shops on the urbanisation.
Beautiful sandy beaches and several towns are just a short drive away.
DISTANCE COM. CENTER
0,7 km
From € 547.000
AVAILABILITY
N-234/1405
House
FLOOR:
1
•
BEDROOMS:
3
•
BATHROOMS:
2
INDOOR SURFACE:
311 m²
•
PLOT:
452 m²
€ 625.000
N-234/1406
House
FLOOR:
1
•
BEDROOMS:
3
•
BATHROOMS:
2
INDOOR SURFACE:
311 m²
•
PLOT:
445 m²
€ 620.000
N-234/1409
House
FLOOR:
1
•
BEDROOMS:
3
•
BATHROOMS:
2
INDOOR SURFACE:
317 m²
•
PLOT:
425 m²
€ 639.000
N-234/1410
House
FLOOR:
1
•
BEDROOMS:
3
•
BATHROOMS:
2
INDOOR SURFACE:
317 m²
•
PLOT:
419 m²
€ 625.000
N-234/1411
House
FLOOR:
1
•
BEDROOMS:
3
•
BATHROOMS:
2
INDOOR SURFACE:
317 m²
•
PLOT:
425 m²
€ 629.000
N-234/1436
House
FLOOR:
1
•
BEDROOMS:
3
•
BATHROOMS:
2
INDOOR SURFACE:
133 m²
•
PLOT:
415 m²
€ 549.000
N-234/1437
House
FLOOR:
1
•
BEDROOMS:
3
•
BATHROOMS:
2
INDOOR SURFACE:
133 m²
•
PLOT:
415 m²
€ 552.000
N-234/1438
House
FLOOR:
1
•
BEDROOMS:
3
•
BATHROOMS:
2
INDOOR SURFACE:
133 m²
•
PLOT:
415 m²
€ 549.000
N-234/1439
House
FLOOR:
1
•
BEDROOMS:
3
•
BATHROOMS:
2
INDOOR SURFACE:
133 m²
•
PLOT:
415 m²
€ 552.000
N-234/1440
House
FLOOR:
1
•
BEDROOMS:
3
•
BATHROOMS:
2
INDOOR SURFACE:
133 m²
•
PLOT:
415 m²
€ 549.000
N-234/1441
House
FLOOR:
1
•
BEDROOMS:
3
•
BATHROOMS:
2
INDOOR SURFACE:
133 m²
•
PLOT:
415 m²
€ 552.000
FEATURES
VIEW
•

Panoramic view

•

Mountain view

•

Nature view
COMFORT
•

Garage

•

Shower

•

Private parking

•

Electric shutters
EXTERIOR
•

Terrace

•

Garden

•

Landscaped garden
HEATING / COOLING
•

Ducted airconditioning

•

Floor heating (bathroom)

•

Electric boiler
FLOORPLAN