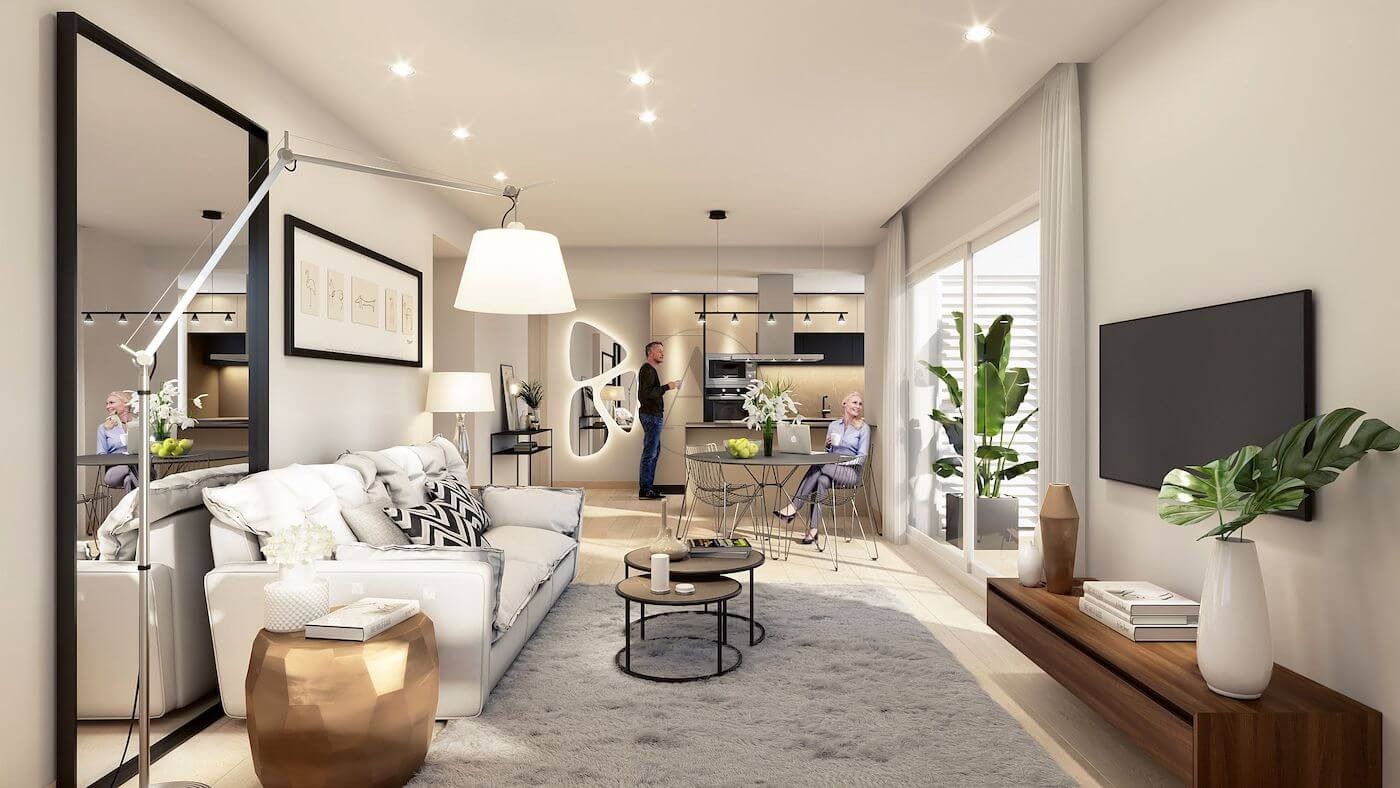 REF: N-154
New residence with modern apartments at La Finca Resort
Algorfa, Costa Blanca South
From € 216.000
A new project consisting of modern new build apartments at La Finca. These apartments are part of a brand new resort with different types of homes. There are flats, villas and terraced houses available. The residence is located at the end of the popular urbanisation La Finca Golf.
There is a choice of ground floor apartments with terrace and garden or first floor apartments with private roof terrace. You can choose between 2 or 3 bedrooms, each with 2 bathrooms.
Each home is equipped with air conditioning, underfloor heating in the bathrooms and electric blinds.
The ground floor units enjoy a spacious terrace with a large private garden at the front and back of the property.
The first floor apartments enjoy a large balcony and a private solarium.
This gated residence is also provided with a beautiful communal swimming pool and several green areas.
Parking and storage can be purchased (optional).
La Finca Golf Resort is only a 15-minute drive from several beautiful sandy beaches. The golf course is right on your doorstep. As well as several bars and restaurants. Nearby towns are easily accessible, all amenities closeby!
Contact Adaleta for more information or a viewing.
Expected completion:
F7 : February 2024.
F8 : June 2024.
DISTANCE COM. CENTER
5 km
From € 216.000
AVAILABILITY
N-154/1445
Apartment
FLOOR:
0
•
BEDROOMS:
2
•
BATHROOMS:
2
INDOOR SURFACE:
69 m²
•
OUTDOOR SURFACE:
60 m²
•
Sold
N-154/1446
Apartment
FLOOR:
0
•
BEDROOMS:
2
•
BATHROOMS:
2
INDOOR SURFACE:
69 m²
•
OUTDOOR SURFACE:
60 m²
•
€ 236.000
N-154/1448
Apartment
FLOOR:
0
•
BEDROOMS:
2
•
BATHROOMS:
2
INDOOR SURFACE:
69 m²
•
OUTDOOR SURFACE:
60 m²
•
€ 233.000
N-154/1453
Apartment
FLOOR:
1
•
BEDROOMS:
2
•
BATHROOMS:
2
INDOOR SURFACE:
71 m²
•
OUTDOOR SURFACE:
94 m²
•
€ 263.000
N-154/1454
Apartment
FLOOR:
1
•
BEDROOMS:
2
•
BATHROOMS:
2
INDOOR SURFACE:
69 m²
•
OUTDOOR SURFACE:
94 m²
•
Sold
N-154/1456
Apartment
FLOOR:
0
•
BEDROOMS:
3
•
BATHROOMS:
2
INDOOR SURFACE:
91 m²
•
OUTDOOR SURFACE:
86 m²
•
€ 265.000
N-154/1458
Apartment
FLOOR:
0
•
BEDROOMS:
2
•
BATHROOMS:
2
INDOOR SURFACE:
69 m²
•
OUTDOOR SURFACE:
62 m²
•
Sold
N-154/1459
Apartment
FLOOR:
0
•
BEDROOMS:
2
•
BATHROOMS:
2
INDOOR SURFACE:
71 m²
•
OUTDOOR SURFACE:
63 m²
•
€ 219.000
N-154/1460
Apartment
FLOOR:
0
•
BEDROOMS:
2
•
BATHROOMS:
2
INDOOR SURFACE:
69 m²
•
OUTDOOR SURFACE:
62 m²
•
€ 216.000
N-154/1461
Apartment
FLOOR:
0
•
BEDROOMS:
3
•
BATHROOMS:
2
INDOOR SURFACE:
91 m²
•
OUTDOOR SURFACE:
80 m²
•
Sold
N-154/1464
Apartment
FLOOR:
1
•
BEDROOMS:
2
•
BATHROOMS:
2
INDOOR SURFACE:
69 m²
•
OUTDOOR SURFACE:
90 m²
•
€ 243.000
N-154/1466
Apartment
FLOOR:
1
•
BEDROOMS:
2
•
BATHROOMS:
2
INDOOR SURFACE:
69 m²
•
OUTDOOR SURFACE:
90 m²
•
€ 243.000
FEATURES
VIEW
•

Panoramic view

•

Mountain view
ENTERTAINMENT
•

Communal pool

•

Children's pool
COMFORT
•

Shower

•

Elevator

•

Private parking

•

Private indoor parking

•

Storage room

•

Electric shutters
EXTERIOR
•

Terrace

•

Garden

•

Balcony

•

Roof terrace

•

Landscaped garden

•

Communal garden
HEATING / COOLING
•

Airconditioning

•

Electric heating

•

Floor heating (bathroom)

•

Electric boiler
FLOORPLAN