New build Costa Blanca
Buying a new build property at the Costa Blanca is a fantastic choice! No need for structural alterations, renovations or painting work. With a little decoration, you are ready to move in.
BUYING NEW
the benefits of a new project
Stating the obvious, it's brand new. Not only does this mean a carefree property, it also means better quality. Think thermic and acoustic isolation, improved materials such as double or triple glazed windows. Energy friendly appliances, …
Going for a sleek modern style or traditional? The choice is yours!
What are the advantages of buying a new development?
01
Warranty on appliances
02
10-year warranty on design faults
03
10-year warranty on structural defects
04
Advanced building standards
RESEARCH
knowing the new build market
A large variety of new developments are spread over the Costa Blanca. This is great news in terms of choice.
However, not every developer offers the same quality. Or even the same level of professionalism and financial strength. Adaleta will guide you and only works with experienced developers.

Buying off plan or key ready
Considering pros and cons
While searching for the new build home of your dreams, choices will be made. For example, going for an off plan or key ready property.
Both options offer some fantastic opportunities at the Costa Blanca. However, there is a big underlying difference.
Buying "off plan" might be considered a bit more adventurous. Mostly because the development is not ready yet. Looking at a plot of land, with a floor plan in hand, can be hard to visualise. Even when the development is actively being built, it's not the same as a key ready property.
On the other hand, "off plan" offers the possibility to personalise your new home. Different flooring, changing the lay-out, … With a key-ready property, well it's ready. What you see, is what you get.
Another difference is the time frame. Buying a new property "off plan", will take more time. Depending on the construction phase, this can be several months. A longer lead time, does not necessarily have to be negative. Payments are done in stages, according to the build progress.
Stating the obvious again, key ready is ready to be moved in. While you know exactly what you are buying, there is no chance to change materials. However, furnishings and decorations can be a great tool to give your new home a personal touch.
3 tips to research the market
TIP 1
compare locations
Not set on a specific location or area? In this case, you'll have the benefit to compare different locations. As you know, location is a very deciding factor in real estate pricing. By comparing different areas, you might find more opportunities.
TIP 2
compare projects
Although 2 projects might look alike on paper, they can have major differences. Use of materials, communal areas and facilities play a huge role in construction cost.
Real estate is supply vs demand. When there are hundreds of identical properties to yours, it isn't really unique is it?
TIP 3
discuss the project with your agent
Your buying agent is instructed by you. Therefore do not hesitate to ask for their unbiased opinion and experience with a builder.
Having first hand experience with the developer is a great advantage. An agent with your best interest in mind, will not be afraid to give a critical review.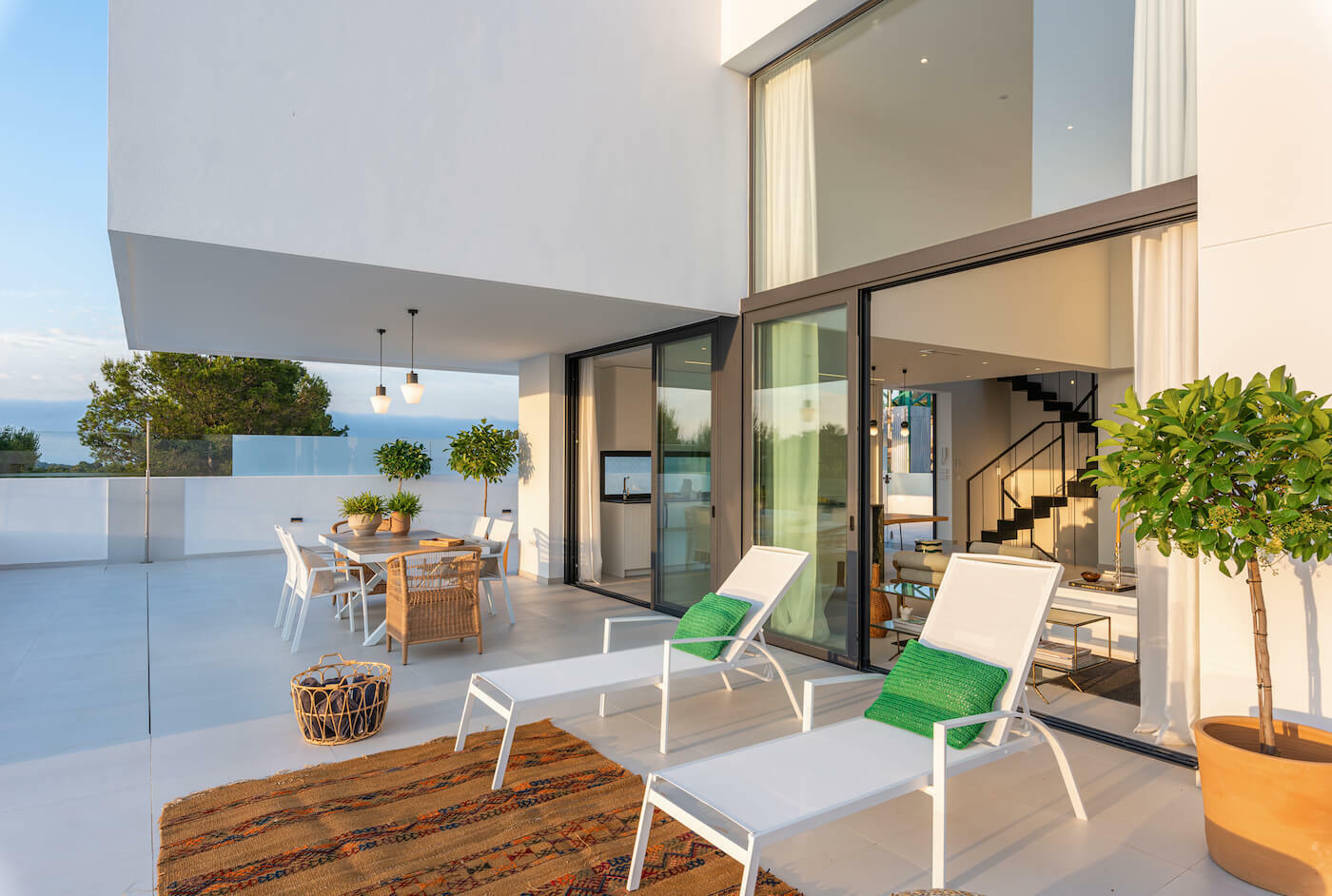 What are you searching for?
Can't find what you are looking for? Let us know what you are searching for.
You will be automatically informed by e-mail about the new properties in our portfolio that match your criteria.
Finding the right new build
Finding the new property of your dreams is easier and more relaxed when knowing what to look for. Being able to do your due diligence, asking the right questions, helps eliminate contenders.
In this section we'll dive into the aspects of searching and finding your Costa Blanca new build property.
THE HUNT FOR A NEW PROPERTY
be commited
The search for new build can be quite time-consuming. Nevertheless, you are facing an important decision that impacts your financial well-being. Therefore, be committed, it's time well spent.
Beginning the property hunt online gives a feeling for prices and number of developments for sale. While it's a great start, it will not provide reliable insights. Viewing projects in person, talking with the agent and discovering neighbourhoods does. It results in a better market knowledge. Which cannot be done online.
Think and discuss the purpose of your purchase. Are you planning to buy a new build apartment for holidays? Or rather a new Costa Blanca villa to enjoy for longer periods? Do you have children and you want them to make friends to play with? Or rather escape the crowd in your own oase of ZEN? Define your wishes, goals and use. This allows for a well thought plan.
Social media and forums, often give a good representation of what to expect. You can also read personal experiences from people in a similar scenario. However, opinions are often biased and the advice not always correct.
Critical questions before buying
BANK WARRANTY
what is it?
When buying off plan or a new build under construction, it is of utmost importance to have a bank warranty.
While the property is being built, the payment is done based on the progress of construction. Meaning:
- an initial deposit when signing the purchase agreement,
- different instalments based on the build progress,
- and a remaining balance at completion (notary).
To protect the buyer, a bank warranty (or insurance policy) became a legal obligation. Hence securing each payment in case the developer files for bankruptcy or fails to deliver on time.
LICENCE OF FIRST OCCUPATION
what does it mean?
A certificate issued by town hall. It's an official confirmation that a new development complies with all planning and building regulations. Obtained when the project is completed. It also states that the property is habitable and fit for use (necessary document to contract utilities).
AVOID
unnecessary risk
Although it is obvious, many buyers still take huge gambles in good faith. Never sign a purchase agreement for an off-plan project when the land is not in the developer's name. Same principle for the building permit. Without a building licence, you are just buying hopes and dreams.
GUIDANCE
get professional assistance
Always instruct an independent solicitor for juridical assistance. They will do the necessary research for you and check if all licences and permits are good. Consider the small fee as an insurance. It's not worth taking the risk.
FOUND IT!
Buying your new build home
A rush of emotions! When you have found the new Costa Blanca property of your dreams, you might experience some strong emotions.
Maybe a bit nervous, as it is a big decision? Or impatient, why isn't it finished yet? Or just full of joy and ready to announce the news?
In this section we try to give you a general overview of what to expect.
The process when buying a new build property at the Costa Blanca
01
Define your goals and wishes

03
Research the new build market
04
Vist projects with Adaleta
05
Pre-check by solicitor
06
Reservation of the property
07
Full check by solicitor
08
Signing the purchase agreement
09
Stage payments for off plan
10
Pre-completion inspection
11
Completion at the notary
12
Celebrate and enjoy your new home
PURCHASE COSTS NEW BUILD
costa blanca
Purchase costs can fluctuate depending on the community. We'll take a closer look at the purchase costs for a new property at the Costa Blanca (Valencian community).
In general it is recommend to take a cost of 14,5% into account.
- VAT: 10%
- Stamp duty: 1,5%
- Solicitor fees: 1%
- Notary: 1%
- Other (utility, registration, …): 1%
Note: When purchasing a property with a mortgage, the costs will be higher. A deed for the mortgage must be signed and registered as well.
Tip 1: Need to convert currency? Consider a specialised FX company to save on the transfer.
Tip 2: When buying a new parking space or storage room separately, the IVA will be 21%. When possible, it's recommended to purchase at the same time as the property.
BUYING NEW AT THE COSTA BLANCA
why buy with Adaleta?
Buying a property in general is a big step. Let alone a property in a foreign country and off-plan. Count on our experience with property transactions and international buyers.
Transparant guiding, unbiased feedback and an agent that works for you. That is what we offer.